NIH Special Event for Autism Awareness Month – The Story Behind Julia, Sesame Street's Muppet with Autism
Event Information
Topic
Topic Description
Date:
Monday, April 9, 2018
Time:
1:00 p.m. to 3:15 p.m. Eastern
Place:
NIH Main Campus
Masur Auditorium
Building 10 (Clinical Center)
9000 Rockville Pike
Bethesda, MD 20892

Description
The National Institute of Mental Health (NIMH) Office of Autism Research Coordination (OARC) is pleased to invite you to attend our annual special event to recognize National Autism Awareness Month. We will be hosting a Panel Presentation featuring speakers from Sesame Workshop, the nonprofit educational organization behind Sesame Street, and a meet-and-greet with a costumed Julia character, the Sesame Street Muppet who has autism. Sesame Workshop speakers Jeanette Betancourt Ed.D., Mindy Fila, and Autumn Zitani, M.A., will share the story behind the creation of Julia, the first autistic Muppet, and discuss Sesame's work to increase public understanding of autism and serve autistic children and their families. The panel presentation is appropriate for ages 10+. Before and after the panel presentation, Walkaround Julia will be available for a meet-and-greet with guests. The meet-and-greet portion of the event is appropriate for all ages. Sesame Workshop is present in more than 150 countries, with a mission to help kids everywhere grow smarter, stronger, and kinder. Launched in 2015, the Sesame Street and Autism: See Amazing in All Children initiative has been developed and expanded in consultation with over 250 organizations and experts within the autism community. The initiative offers families ways to manage common challenges, simplify everyday activities, and connect with family, friends, and community.
Cost:
The meeting is free and open to the public.
Registration:
Online Registration
Pre-registration, although not required, is encouraged. For questions or problems with registration, please contact Celeste Pleasant from The Bizzell Group at 240-668-0302 or cpleasant@thebizzellgroup.com.
Conference Call Access:
Dial: 800-369-1862
Access code: 8948778
Map. Directions & Security:
Directions to NIH Campus
Map of NIH Campus
Map to Masur Auditorium

Walking Directions to Masur Auditorium:

From the North lobby entrance: From the lobby, go down the right side, passing Admissions on your right. Continue straight through the sliding glass doors, following posted signs to the Masur. Continue following the "Detour" signs to the Masur. The auditorium is just past the main elevators.
From the South lobby entrance: From the lobby, take either the left or right hallway up a slight incline until you come to the entrance of the Masur Auditorium. When the two hallways converge, you are standing in front of Masur Auditorium.


In the interest of security, NIH has instituted stringent procedures for entrance onto the NIH campus. All visitor vehicles, including taxicabs, hotel, and airport shuttles will be inspected before being allowed on campus. Visitors will be asked to show one form of identification (for example, a government-issued photo ID, driver's license, or passport) and to state the purpose of their visit.
Online Resources
Back to Top

Agenda
Time
Event
1:00 p.m.

Meet and Greet with Walkaround Julia - FAES Terrace (NIH Campus)

1:30 p.m.

Panel Presentation - Masur Auditorium

2:45 p.m.

Meet and Greet with Walkaround Julia - FAES Terrace (NIH Campus)
Back to Top
Speakers
Jeanette Betancourt, Ed.D.
Senior Vice President, U.S. Social Impact
Sesame Workshop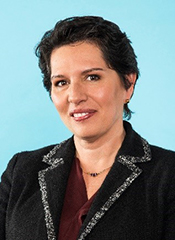 Dr. Betancourt is the Senior Vice President for U.S. Social Impact at Sesame Workshop, the nonprofit organization behind Sesame Street. She directs the development and implementation of community and family engagement initiatives making a difference in the lives of vulnerable children and their families. These research-based initiatives are designed to impact children's early learning, health and well-being, and provide strategies and resources to counteract the effects of trauma while fostering the critical connections that adults have on children's lives. Prior to joining Sesame Workshop, Dr. Betancourt created programs in adult learning and early childhood education at Teachers College, Columbia University. She is a licensed bilingual speech and language pathologist and educational therapist. She participates on several national and local boards and has contributed to the start of charter schools. Dr. Betancourt has a BA and MA in Speech and Language Pathology; an MS in Bilingual Reading/Special Education, and an Ed.D. in Special Education.
Mindy Fila
Coordinating Producer, Sesame Street Production
Sesame Workshop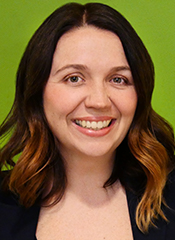 Mindy Fila is Coordinating Producer of Sesame Street at Sesame Workshop, the nonprofit educational organization behind Sesame Street. She oversees the creative direction of digital projects, short films and animations. She participates in all logistical and creative decision making for Sesame Street's US broadcast. Fila joined Sesame Workshop in 2001. Her time at the Workshop has given her an opportunity to contribute in many roles prior to her current leadership role as Coordinating Producer, including as Associate Producer managing live-action/animated films. In addition to Fila's production roles, she is a member of the Directors Guild of America. She has also been Assistant Director and Stage Manager for Sesame Street episodes, community outreach projects and home videos. In 2010, she was elected to serve on the Eastern DGA council. In 2014, she joined the Producers Guild of America and has won several PGA Awards for Outstanding Children's Programming.
Autumn Zitani, M.A.
Senior Director of Content, Curriculum & Content
Sesame Workshop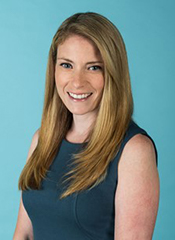 Autumn Zitani is the Senior Director of Content in the Curriculum and Content Department at Sesame Workshop, the media and education nonprofit organization behind Sesame Street. She has been with Sesame Workshop for over 15 years and is responsible for the development and implementation of Sesame Street's whole child curriculum. In her role, she reviews, creates, and integrates educational and developmentally appropriate content across Sesame Workshop's media platforms, such as television, digital media, outreach, and licensed products. Zitani received her Master's Degree in Developmental Psychology from Teachers College, Columbia University.
About Julia
Julia is a sweet and curious 4-year-old Muppet with autism, who debuted on Sesame Street in 2017. Julia was originally introduced in digital form in 2015 as part of Sesame Workshop's Sesame Street and Autism: See Amazing in All Children initiative, designed to serve autistic children and their families and increase awareness and understanding of autism. Julia spreads the message that, while differences between children with autism and their neurotypical peers may seem significant, all children share something far more important: unique qualities and talents that make the world an interesting place.
About Sesame Workshop:
Sesame Workshop is the nonprofit media and educational organization behind Sesame Street, the pioneering television show that has been reaching and teaching children since 1969. Today, Sesame Workshop is an innovative force for change, with a mission to help kids everywhere grow smarter, stronger, and kinder. We're present in more than 150 countries, serving vulnerable children through a wide range of media, formal education, and philanthropically-funded social impact programs, each grounded in rigorous research and tailored to the needs and cultures of the communities we serve. For more information, please visit www.sesameworkshop.org.
For more information on Julia and Sesame Workshop's autism initiative, visit www.sesamestreet.org/autism.
Back to Top
Back to Top