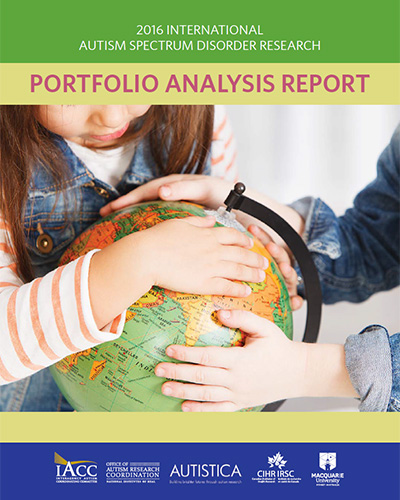 International Portfolio Analysis Report
Autism Spectrum Disorder Research
2016
Download Full PDF (1 MB)

Over the past nine years in the United States (U.S.), the Office of Autism Research Coordination (OARC) at the National Institutes of Health (NIH) has published an annual national autism spectrum disorder (ASD) research portfolio analysis report. The report provides comprehensive information about autism research funding and helps monitor ASD research efforts across the country. Outside of the U.S., other countries have been supporting ASD research, but there has never been an effort to track global investment. Read more.
ASD Research Funding and Funders in 2016
Australia, Canada, U.K., and the U.S. requested 2016 autism-related research project and funding information from public body entities and private organizations, including the annual budget for each project and its relevance to the seven research priority areas. Details describing the data collection methods and currency conversion for each country are included in Appendix B. Read more.
Analysis of ASD Research Priority Areas in 2016
Using the IACC Strategic Plan framework, projects were aligned with the seven research priority areas to better understand what areas of research were funded in 2016. Figure 2 illustrates the breakdown of the combined research funding from the four countries across the seven research priority areas: Screening and Diagnosis, Biology, Risk Factors, Treatments and Interventions, Services, Lifespan Issues, and Infrastructure and Surveillance. Read more.
The 2016 International ASD Research Portfolio Analysis Report includes Australia, Canada, the United Kingdom, and the United States and represents the first year that data on ASD research funding were collected and reported on a global scale. This report was an opportunity to assess current investments in ASD research among different countries and see areas in need of funding in the future. Read more.
Back to Top