2016 IACC ASD Research Portfolio Analysis Report Provides First Analysis of 2016-2017 IACC Strategic Plan Objectives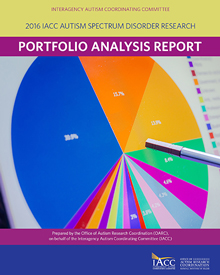 The 2016 IACC ASD Research Portfolio Analysis Report represents the ninth year of data collected and the seventh comprehensive report of U.S. ASD research funding across both the federal and private sectors. It is also the first analysis to measure research progress against the 23 new objectives from the 2016-2017 IACC Strategic Plan. Overall, funding for ASD research among both federal and private funders totaled $364.4 million and spanned 1,360 projects in 2016. With nine years of ASD research funding data available, it was possible to continue analyzing funding trends, enabling meaningful observations about the long-term progress in ASD research over the period from 2008-2016. Over these nine years, autism research showed an overall upward trend in funding, increasing by 64.3% since 2008.
As this was the first year aligning ASD research projects with the new Strategic Plan objectives, 2016 will be the starting point to assessing progress on current research priorities within the objectives. However, the seven question framework that was used by the IACC in previous editions of the Strategic Plan has remained in place, enabling continued evaluation of progress in these areas.
This annual IACC ASD Research Portfolio Analysis Report assists the Committee with carrying out its charge to monitor autism activities and to inform the process of updating the IACC Strategic Plan for ASD Research. Future portfolio analyses using the 2016-2017 IACC Strategic Plan's set of 23 objectives will continue to serve as a resource for the Committee, funders, and the broader ASD community to monitor progress, identify knowledge gaps, recognize emerging trends and new opportunities, and guide future research investments to better meet the needs of families and individuals affected by ASD.
***
The IACC is a Federal advisory committee that was created by Congress in an effort to accelerate progress in ASD research and services. The IACC works to improve coordination and communication across the Federal government and work in partnership with the autism community. The Committee is composed of officials from many different Federal agencies involved in autism research and services, as well as adults on the autism spectrum, parents and family members of individuals on the autism spectrum, advocates, researchers, providers, and other public stakeholders. The documents and recommendations produced by the IACC reflect the views of the Committee as an independent advisory body and the expertise of the members of the Committee, but do not represent the views, official statements, policies or positions of the Federal government. For more information on the IACC, please visit: www.iacc.hhs.gov.
Back to Top