IACC Strategic Plan Working Group Meeting (Virtual)
The purpose of this IACC Working Group meeting is for members of the IACC to discuss the 2021-2022 IACC Strategic Plan for Autism Research, Services, and Policy, which is currently being developed. The meeting will be held virtually and will be accessible for public viewing.
Event Information
Topic
Topic Description
Dates:
Wednesday, July 13, 2022; 1:00 - 4:30 p.m. ET
Thursday, July 14, 2022; 1:00 - 4:30 p.m. ET
Cost:
The virtual event is free.
Disability Accommodations:
Captioning will be available. Individuals who need sign language interpreters and/or other reasonable accommodations to participate in this event may contact Rebecca Martin at Rebecca.martin@nih.gov or 301-435-0886. Please make accommodation requests 7 business days prior to the event.
Agenda
Day 1
Time
Event
1:00 p.m.

Welcome

Susan Daniels, Ph.D.

Director, Office of Autism Research Coordination, NIMH, and Executive Secretary, IACC

Acting National Autism Coordinator

1:15

Discussion: Introduction

1:45

Discussion: Question 1 (Screening and Diagnosis)

2:15

Break

2:30

Discussion: Question 2 (Biology)

3:00

Discussion: Question 3 (Genetic and Environmental Factors)

3:30

Break

3:45

Discussion: Question 4 (Interventions)

4:15

Day 1 Closing Remarks

4:30

Adjourn Day 1
Day 2
Time
Event
1:00 p.m.

Welcome

Susan Daniels, Ph.D.

Director, Office of Autism Research Coordination, NIMH, and Executive Secretary, IACC

Acting National Autism Coordinator

1:10

Discussion: Question 5 (Services and Supports)

1:40

Discussion: Question 6 (Lifespan)

2:10

Discussion: Question 7 (Research Infrastructure and Prevalence)

2:40

Break

3:00

Discussion: Cross-Cutting Objective - Sex and Gender

3:30

Discussion: Cross-Cutting Objective - Reducing Disparities and Promoting Equity

4:00

Discussion: COVID-19

4:25

Wrap Up

4:30

Adjourn Day 2
Schedule is subject to change. For more information on upcoming events, please see https://iacc.hhs.gov/meetings/iacc-meetings/
Materials
Draft Materials Related to the 2021-2022 IACC Strategic Plan
IACC Members
Slides

Transcripts
Full Meeting Videos
Day 1: Wednesday, July 13, 2022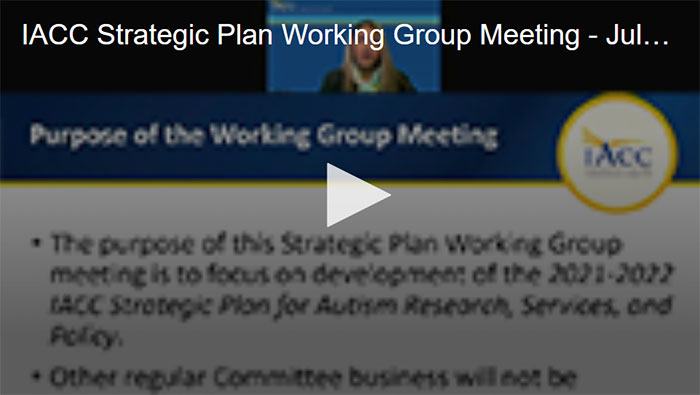 Day 2: Thursday, July 14, 2022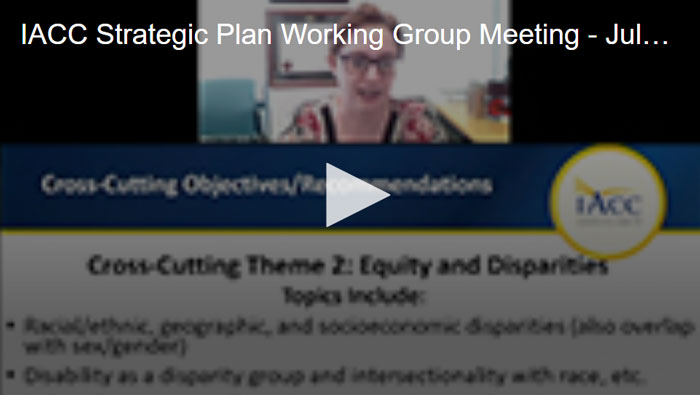 Back to Top