2019 IACC Summary of Advances Highlights New and Impactful Autism Research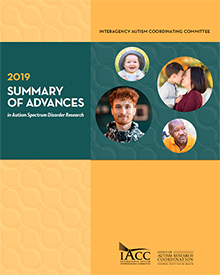 The Interagency Autism Coordinating Committee (IACC) has released its 2019 Summary of Advances in Autism Spectrum Disorder Research. This publication provides plain language summaries of 20 studies that represent the top advances in research focusing on Autism spectrum disorder (ASD) in 2019, as chosen by members of the IACC. The selected articles address topics that span all seven general question areas of the 2016-2017 IACC Strategic Plan for Autism Spectrum Disorder (screening and diagnosis, biology, risk factors, treatments and interventions, services, lifespan issues, and infrastructure and surveillance). Advances include new insights into disparities in ASD diagnoses, predictors of language development in preschoolers with ASD, and the impact of various environmental factors on ASD risk. Topics also include studies of behavioral interventions for children with ASD, strategies to train therapists in publicly funded mental health services, supports for transition-age youth and young adults, and ASD prevalence estimates in 4-year-old children. In addition to the 20 selected studies, the 2019 Summary of Advances lists all articles nominated by IACC members. The 2019 Summary of Advances meets the requirements of the Autism Collaboration, Accountability, Research, Education, and Support (Autism CARES) Act of 2019.
***
The IACC is a Federal advisory committee that was created by Congress in an effort to accelerate progress in ASD research and services. The IACC works to improve coordination and communication across the Federal government and work in partnership with the autism community. The Committee is composed of officials from many different Federal agencies involved in autism research and services, as well as adults on the autism spectrum, parents and family members of individuals on the autism spectrum, advocates, researchers, providers, and other public stakeholders. The documents and recommendations produced by the IACC reflect the views of the Committee as an independent advisory body and the expertise of the members of the Committee, but do not represent the views, official statements, policies or positions of the Federal government. For more information on the IACC, please visit: iacc.hhs.gov.
Back to Top