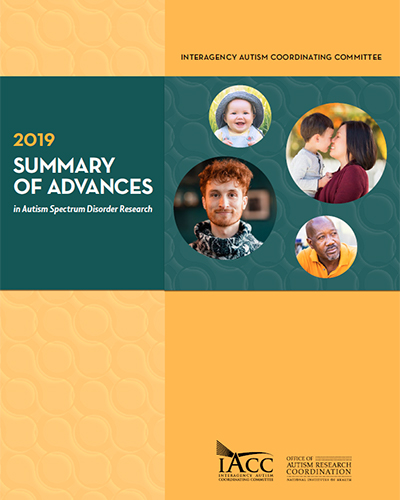 Summary of Advances
In Autism Spectrum Disorder Research
2019
Download Full PDF (2 MB)

Each year, the IACC releases a list of scientific advances that represent significant progress in the field. The 2019 IACC Summary of Advances provides short, plain language summaries of the top research breakthroughs selected by the IACC from a pool of research articles nominated by the members. Read more.
Articles Selected for the 2019 Summary of Advances
1) Accuracy of Autism Screening in a Large Pediatric Network. 2) Evaluation of the Diagnostic Stability of the Early Autism Spectrum Disorder Phenotype in the General Population Starting at 12 Months. 3) Disparities in Documented Diagnoses of Autism Spectrum Disorder Based on Demographic, Individual, and Service Factors. All articles.
Question 1: How Can I Recognize the Signs of ASD, and Why is Early Detection So Important?
Accuracy of Autism Screening in a Large Pediatric Network. Most children with autism spectrum disorder (ASD) show symptoms by 2 years of age, but many are not diagnosed until age 4 or older. Because earlier diagnosis of ASD is associated with positive outcomes the American Academy of Pediatrics recommends universal screening for ASD. Read more.
Question 2: What is the Biology Underlying ASD?
Predictors of Longer-Term Development of Expressive Language in Two Independent Longitudinal Cohorts of Language-Delayed Preschoolers with Autism Spectrum Disorder. It is estimated that half to three-quarters of preschool children with ASD are minimally verbal. Although this percentage decreases with older age, language delays can persist even with intervention: studies show that one-third of young adults with ASD remain minimally verbal. Read more.
Question 3: What Causes ASD, and Can Disabling Aspects of ASD Be Prevented or Preempted?
Association of Genetic and Environmental Factors with Autism in a 5-Country Cohort. The origins of ASD are not fully understood, but research has consistently supported a significant effect of both common and rare inherited genetic variations. Additionally, there is evidence that other, non-inherited traits may also influence the development of ASD. Read more.
Question 4: Which Treatments and Interventions Will Help?
Effectiveness of Community-Based Early Intervention for Children with Autism Spectrum Disorder: A Meta-Analysis. Research indicates that children with ASD often experience cognitive, social, and communicative improvements as a result of early interventions provided by university-based experts. However, most community-based early intervention programs—where most children with ASD receive services—often do not incorporate evidence-based approaches into their practice. Read more.
Question 5: What Kinds of Services and Supports Are Needed to Maximize Quality of Life For People On The Autism Spectrum?
Effectiveness of Training Therapists to Deliver an Individualized Mental Health Intervention for Children with ASD in Publicly Funded Mental Health Services: A Cluster Randomized Clinical Trial. Approximately 70% of school-aged children with ASD are diagnosed with at least one non-ASD co-occurring psychiatric disorder. These co-occurring conditions frequently present as challenging or disruptive behaviors, which can be confounded with symptoms related to ASD and difficult to treat. Read more.
Question 6: How Can We Meet the Needs of People with ASD as They Progress Into and Through Adulthood?
A 20-Year Study of Suicide Death in a Statewide Autism Population. Recent research has found that individuals with ASD are at higher risk for suicide, suicide attempts, and suicidal ideation. However, little work has been done to understand the incidence and specific characteristics of suicide risk in the ASD population. Read more.
Question 7: How Do We Continue to Build, Expand, and Enhance the Infrastructure System to Meet the Needs of the ASD Community?
Prevalence and Characteristics of Autism Spectrum Disorder Among Children Aged 4 Years—Early Autism and Developmental Disabilities Monitoring Network, Seven Sites, United States, 2010, 2012, and 2014. The Autism and Developmental Disabilities Monitoring (ADDM) Network is an active surveillance system funded by the Centers for Disease Control and Prevention (CDC) to track the prevalence and characteristics of children with ASD in the United States. The findings from ADDM-reported data have yielded valuable insights on the changing prevalence and characteristics of ASD. Read more.
Back to Top