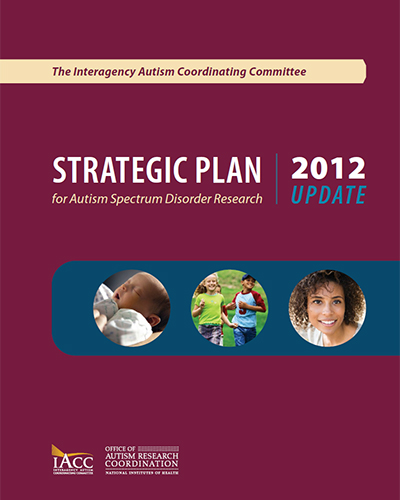 IACC Strategic Plan
For Autism Spectrum Disorder Research
2012 Update
Download Full PDF (8 MB)

Question 1: When Should I Be Concerned?
Several noteworthy new studies from the U.S., South Korea, and England update the recognized prevalence of autism. In the U.S., the Autism and Developmental Disabilities Monitoring Network (ADDM), supported by the Centers for Disease Control and Prevention (CDC), released its most recent surveillance data, showing a prevalence of 1 in 88 children or 1.1%—an increase of 78% since the first report in 2002—with larger increases among racial/ethnic minority groups (CDC, 2012). Read more.
Question 2: How Can I Understand What Is Happening?
In the past two years there have been more than 225 research publications that have used neuroimaging of brain structure or connectivity to look for differences in autism. In response to the urgent need for sensitive and specific biomarkers for the diagnosis of ASD, many research groups have been studying patterns of brain development, including prospective longitudinal studies of infant siblings of children with ASD. Read more.
Question 3: What Caused This to Happen and Can It Be Prevented?
The past two years have seen an explosion of research on genomic factors associated with autism, with more than 900 papers on "autism and genetics" listed in the National Library of Medicine's (NLM) PubMed database in 2011 and 2012. Progress in genomics has been enabled by the advent of rapid, inexpensive, precise sequencing tools and the availability of large repositories of DNA samples. Read more.
Question 4: Which Treatments and Interventions Will Help?
Evidence for the benefits of early behavioral intervention continues to mount, with researchers now focusing on testing interventions for infants and toddlers, identifying the most effective aspects of treatments, and disseminating these interventions in community settings. While gains have been made in this area of research, the effects of these interventions as measured to date are modest. Read more.
Question 5: Where Can I Turn for Services?
The 2011 addendum to Question 5 of the IACC Strategic Plan for ASD Research discusses the Affordable Care Act passed by Congress in 2010 and the Mental Health Parity Act (PDF – 55 KB) implemented in 2010, both of which have the potential to expand service coverage for individuals with ASD. The importance of the Affordable Care Act was recently highlighted in a report estimating that up to 45% of children identified through the U.S. special education system as being on the autism spectrum (206,330 children in 2011) receive Medicaid-reimbursed services (Semansky, Xie & Mandell, 2012). Read more.
Question 6: What Does the Future Hold, Particularly for Adults?
Several studies have validated strategies to diagnose adults with ASD (Andersen et al., 2011; Bastiaansen et al., 2011; Joshi et al., 2011; Ritvo et al., 2011). However, only one diagnostic instrument was tested in an unselected community sample, which represents a truer test of the instrument's validity (Brugha et al., 2012). This instrument performed only moderately well in the community sample, suggesting the need for more research to identify the best direct observation measures for diagnosis. Read more.
Question 7: What Other Infrastructure and Surveillance Needs Must Be Met?
Most public and private funders of autism research have now made data sharing with the autism research data repository funded by the National Institutes of Health (NIH), the National Database for Autism Research (NDAR), an integral part of funding new research projects, which will in turn make future data available to other researchers. In addition, the Autism Speaks-supported Autism Genetic Resource Exchange (AGRE) and Autism Tissue Program (ATP), as well as the Interactive Autism Network (IAN), supported by NIH, Autism Speaks, Simons Foundation, and the Kennedy Krieger Institute, are now linked with NDAR. Read more.
Back to Top