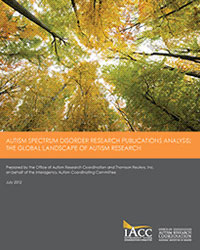 Publications Analysis
Autism Spectrum Disorder Research
The Global Landscape of Autism Research
2012
Download Full PDF (5 MB)

Executive Summary
Planning and investment in autism spectrum disorder (ASD) research should be guided by clear objectives that account for the current state of the science and the identification of critical research gaps. Under the direction of the Interagency Autism Coordinating Committee (IACC), this inaugural Autism Spectrum Disorder Research Publications Analysis Report describes several key aspects of and trends related to ASD research publications, which can be used to inform planning and strategic funding decisions for future autism research. The IACC is a US Federal advisory committee charged with coordinating all efforts relating to ASD within the US Department of Health and Human Services (HHS). As part of this charge, the IACC is responsible for developing and annually updating a strategic plan for autism research that outlines critical research goals and highlights areas in need of further study and resources. This report reviews the state of ASD research through an evaluation of ASD-related research articles published between 1980 and 2010 and indexed in the Thomson Reuters ScienceWire™ Publication Catalog, and identifies historical trends and publication outputs across the seven critical research areas of the IACC Strategic Plan for Autism Spectrum Disorder Research.
Employing an automated categorization methodology customized for this analysis, publications were grouped by how closely they aligned with a single IACC Strategic Plan research area. Information found in research publications was also used to identify the institutions conducting ASD research, funding organizations supporting the research publications, and the extent of collaboration between authors from different countries and research institutions. Retrieval of publication data from the ScienceWire™ Publication Catalog provided bibliometric measures, such as citation counts that serve as an assessment of the impact of this published research. While the analyses included in this study are preliminary, and further, more statistically rigorous analyses could be conducted, the results described in this report serve as an indicator of possible trends that can provide a useful perspective on the development and current state of autism spectrum disorder research.
The main findings from each chapter are as follows:
Chapter One: Trends in Autism Research Topics and Publications
Autism research has demonstrated remarkable growth in the last 10 to 15 years, far outpacing research growth in other comparable fields.
Publication volume in all IACC Strategic Plan Critical Question areas has increased in recent years. While the largest proportions of publications address the basic biology of autism, risk factors, and treatments and interventions, smaller areas such as infrastructure and surveillance, lifespan issues, and services research are growing at least as fast.
Spotlights on Risk Factor Research and Treatments and Interventions Research
Published research on both genetic and environmental risk factors for autism has increased dramatically over the past decade, with the emerging area of epigenetics experiencing a more recent boost in the number of research publications.
A number of approaches to treatments and interventions for autism have been published, with behavioral interventions comprising the largest portion of autism publications related to treatments and interventions. Strong growth trends are evident in all of the treatment and intervention categories analyzed.
Chapter Two: Impact and Maturity of the Autism Research Field
The impact of autism research, as measured by the extent to which research publications are cited as a source of information in subsequent articles, has been consistently increasing in the last 15 years.
Overall, autism publications are cited more often than publications in comparable research fields.
Publication volume, impact, and thematic trends suggest that autism is a young but rapidly growing and evolving field.
Chapter Three: Global Autism Research Funders
Articles published in 2010 contained 2,271 funding acknowledgments representing more than 700 unique funders, including many government agencies and private organizations worldwide.
Funder acknowledgment data suggest that a substantial portion of autism research publications are funded through collaborations between US government, US private, and international government/private funding organizations.
Only a third of all 2010 autism publications acknowledged a source of funding.
Absence of comprehensive funding acknowledgments makes it difficult for funders to track and report research progress, and in turn, hampers their ability to demonstrate the value of research to taxpayers, investors, and public stakeholders.
Efforts should be made by funding agencies, publishers, and research institutions to encourage the research community to acknowledge funders to ensure continued investment in ASD research.
Chapter Four: Global Autism Publications and Collaborations
In 2010, autism research was published by authors in over 50 countries and more than 1,800 research institutions worldwide.
Autism research is increasingly global – while US investigators publish the most autism research, followed by the United Kingdom and Canada, the share of autism research from many other countries is increasing at a faster rate.
The countries with the largest rise in autism publication activity since 2000 include many countries in Asia as well as Poland and Brazil.
International and institutional collaborations are increasing in the US and abroad, and collaborative ASD publications tend to have higher research impact.
This publications analysis gives unique insight into the productivity of biological, behavioral, biomedical, clinical, educational, social sciences, and health services research communities in addressing autism spectrum disorders over the last 30 years. By analyzing publications as a major output of the autism research field, this report complements the annual IACC Portfolio Analysis, which tracks major US inputs or investments into autism research. Using this extensive state-of-the-field knowledge, policymakers, researchers, and community stakeholders can work in concert to track research progress and identify next steps for advancing knowledge about autism, ultimately supporting the development of needed diagnostic tools, interventions, and services to improve the quality of life for people on the autism spectrum.
Back to Top