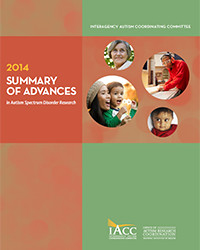 Summary of Advances
In Autism Spectrum Disorder Research
2014
Download Full PDF (4 MB)

Articles Selected for the 2014 Summary of Advances
Question 1: When Should I Be Concerned?
Approaches to enhancing the early detection of autism spectrum disorders: a systematic review of the literature
Validation of the Modified Checklist for Autism in Toddlers, Revised with Follow-up (M-CHAT-R/F)
Question 2: How Can I Understand What Is Happening?
Synaptic, transcriptional and chromatin genes disrupted in autism
Behavioral and cognitive characteristics of females and males with autism in the Simons Simplex Collection
A higher mutational burden in females supports a "female protective model" in neurodevelopmental disorders
Gastrointestinal symptoms in autism spectrum disorder: a meta-analysis
Convergence of genes and cellular pathways dysregulated in autism spectrum disorders
Question 3: What Caused This to Happen and Can It Be Prevented?
Most genetic risk for autism resides with common variation
Prenatal SSRI use and offspring with autism spectrum disorder or developmental delay
The contribution of de novo coding mutations to autism spectrum disorder
The familial risk of autism
Vaccines are not associated with autism: an evidencebased meta-analysis of case-control and cohort studies
Question 4: Which Treatments and Interventions Will Help?
Caregiver-mediated intervention for low-resourced preschoolers with autism: an RCT
Parent-implemented social intervention for toddlers with autism: an RCT
Question 5: Where Can I Turn for Services?
Costs of autism spectrum disorders in the United Kingdom and the United States
Economic burden of childhood autism spectrum disorders
Question 6: What Does the Future Hold, Particularly for Adults?
A longitudinal examination of 10-year change in vocational and educational activities for adults with autism spectrum disorders
Question 7: What Other Infrastructure and Surveillance Needs Must Be Met?
Prevalence of autism spectrum disorder among children aged 8 years—autism and developmental disabilities monitoring network, 11 sites, United States, 2010
The autism brain imaging data exchange: towards a large-scale evaluation of the intrinsic brain architecture in autism
Potential impact of DSM5 criteria on autism spectrum disorder prevalence estimates
Back to Top