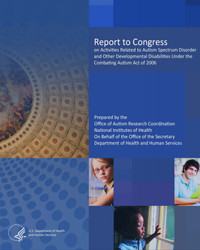 Report to Congress
on Activities Related to Autism Spectrum Disorder and Other Developmental Disabilities
FY 2006 - FY 2009
Download Full PDF (1 MB)

Public Law 109-416 (PDF – 49 KB), the Combating Autism Act of 2006 was signed into law on December 19, 2006. The CAA authorizes expanded activities related to autism spectrum disorder (ASD) research, surveillance, prevention, treatment, and education. Provisions of the CAA encourage the integration of health, education, and community services as well as ensure that citizens have a voice in ASD-related government activities. Read more.
Interagency Coordination: The Role of the IACC
In 2006, Congress established the Interagency Autism Coordinating Committee (IACC) under the Combating Autism Act (P.L. 109-416) to provide advice to the Secretary of Health and Human Services (HHS) concerning issues related to autism spectrum disorder (ASD) and coordinate all ASD-related efforts within HHS. The committee was initially formed under the Children's Health Act of 2000 (P.L. 106-310) and was reauthorized under the CAA as a Federal advisory committee, subject to the Federal Advisory Committee Act (FACA) (P.L. 92-463), with specific membership requirements. Read more.
The following chapters of this Report to Congress addresses the 9 required elements outlined in the CAA. Elements (1) and (2) have been combined into one chapter covering the general progress made and amounts expended during the past 4 years in Federal ASD research efforts by lead agencies and offices within the Department of Health and Human Services (HHS), including: Centers for Disease Control and Prevention (CDC), Centers for Medicare & Medicaid Services (CMS), Office on Disability (OD), Health Resources and Services Administration (HRSA), the National Institutes of Health (NIH), and the Substance Abuse and Mental Health Services Administration (SAMHSA). Read more.
In the past four years under the provisions of the Combating Autism Act of 2006 (CAA) (P.L. 109-416), significant advances have been made in our understanding of ASD. Notably, reliable estimates of the prevalence of ASD and a clearer picture of both the opportunities and gaps that exist in ASD research and services are now available. With substantial Federal support, researchers continue the crucial task of evaluating interventions that provide lasting, meaningful benefit to people with ASD. Read more.
Back to Top