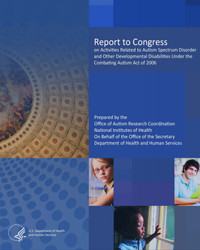 Report to Congress
on Activities Related to Autism Spectrum Disorder and Other Developmental Disabilities
FY 2006 - FY 2009
Download Full PDF (1 MB)

Introduction
Autism spectrum disorder (ASD) is characterized by impaired verbal and nonverbal communication skills and social interactions and restricted, repetitive, and stereotyped patterns of behavior, ranging in impact from mild to significantly disabling.  Two decades ago, ASD was a little known, uncommon disorder.  Today, with prevalence estimates of 1 in 110 U.S. children being diagnosed with ASD, this disorder has become a top national health priority, engaging the collaborative efforts of both Federal agencies and private organizations.1 In 2006, Congress passed the Combating Autism Act to coordinate Federal ASD efforts, establishing a Federal advisory committee, the Interagency Autism Coordinating Committee (IACC), to provide advice to the Secretary of Health and Human Services (HHS) regarding matters related to ASD research and services and to guide Federal agencies in several diverse program areas related to ASD.
The cost of ASD to affected people, families, and society is enormous.  Children with ASD have a wide range of healthcare and services needs, and their families typically lose income, often as a result of one parent leaving the workforce in order to care for and meet his or her child's special health and educational needs.2  A great majority of adults with ASD struggle with ongoing and mostly unmet needs for employment, housing, services, and supports.  The cost to society of ASD is currently estimated to be $35-$90 billion annually, the higher estimate being comparable to Alzheimer's disease.3, 4  Although research on ASD has expanded over the past decade, there remains an urgent need for continuing research and development of services and supports programs to help families facing this challenge.
In response to the heightened societal concern over ASD, Congress passed the Combating Autism Act (CAA) of 2006 (P.L. 109-416).  Through this Act, Congress intended to rapidly increase and accelerate the pace of scientific discovery in ASD research and to enhance coordination of Federal efforts to provide services and supports for people with ASD and their families.
Back to Top