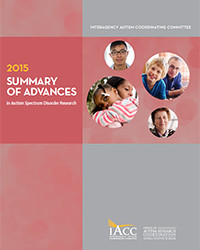 Summary of Advances
In Autism Spectrum Disorder Research
2015
Download Full PDF (3 MB)

Articles Selected for the 2015 Summary of Advances
Question 1: When Should I Be Concerned?
Age at autism spectrum disorder (ASD) diagnosis by race, ethnicity, and primary household language among children with special health care needs, United States, 2009–2010
Diagnostic stability in young children at risk for autism spectrum disorder: a baby siblings research consortium study
Early screening of autism spectrum disorder: recommendations for practice and research
Early identification of autism spectrum disorder: recommendations for practice and research
Question 2: How Can I Understand What Is Happening?
The idiosyncratic brain: distortion of spontaneous connectivity patterns in autism spectrum disorder
Insights into autism spectrum disorder genomic architecture and biology from 71 risk loci
Question 3: What Caused This to Happen and Can It Be Prevented?
Administration of thimerosal-containing vaccines to infant rhesus macaques does not result in autism-like behavior or neuropathology
Autism occurrence by MMR vaccine status among US children with older siblings with and without autism
Association of maternal diabetes with autism in offspring
Question 4: Which Treatments and Interventions Will Help?
Long-term outcomes of early intervention in 6-yearold children with autism spectrum disorder
Parent-mediated intervention versus no intervention for infants at high risk of autism: a parallel, singleblind, randomised trial
Children with autism spectrum disorder and social skills groups at school: a randomized trial comparing intervention approach and peer composition
The effect of oxytocin nasal spray on social interaction deficits observed in young children with autism: a randomized clinical crossover trial
Early intervention for children with autism spectrum disorder under 3 years of age: recommendations for practice and research
Question 5: Where Can I Turn for Services?
Effect of parent training vs parent education on behavioral problems in children with autism spectrum disorder: a randomized clinical trial
Question 6: What Does the Future Hold, Particularly for Adults?
The health status of adults on the autism spectrum
The costs and benefits of employing an adult with autism spectrum disorder: a systematic review
National Autism Indicators Report: Transition into Young Adulthood
High rates of parkinsonism in adults with autism
Longitudinal patterns of employment and postsecondary education for adults with autism and average-range IQ
Question 7: What Other Infrastructure and Surveillance Needs Must Be Met?
No articles were selected from Question 7. For a list of articles that were nominated in this category, see the Full Listing of Nominated Articles.
Back to Top