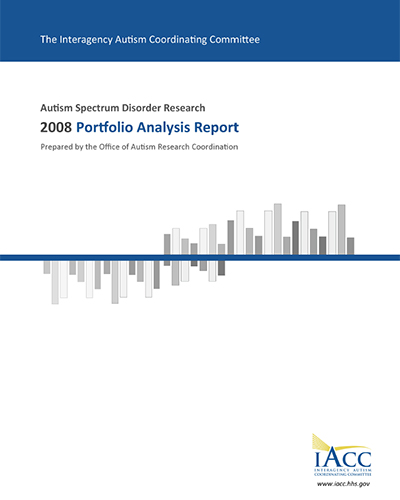 Portfolio Analysis Report
IACC Autism Spectrum Disorder Research
2008
Download Full PDF (2 MB)

Who funded ASD research in 2008?
The Office of Autism Research Coordination (OARC), on behalf of the IACC, asked Federal agencies and private organizations for information about the ASD-related research grants that they supported in 2008, including the annual budget of each project and its relevance to the six questions of the 2009 IACC Strategic Plan for ASD Research (e.g., When Should I Be Concerned? How Can I Understand What Is Happening? What Caused This To Happen and Can It Be Prevented? Which Treatments and Interventions Will Help? Where Can I Turn For Services? What Does the Future Hold?). Nineteen ASD stakeholders were approached for funding information (Figure 1). Of those, 13 reported that they had funded ASD research in 2008. The remaining six were funding service programs or other non-research activities, rather than ASD research Table 1 lists the 19 Federal agencies and private organizations approached for the portfolio analysis and notes whether or not each stakeholder funded ASD research in 2008.
Organizations Included in the 2008 IACC Portfolio Analysis of ASD Research Funding
Federal Agencies
Private Organizations

Federal Agencies

Administration for Children and Families (ACF)*
Agency for Healthcare and Research Quality (AHRQ)*
Centers for Disease Control and Prevention (CDC)
Centers for Medicare and Medicaid Services (CMS)
Department of Defense (DoD)
Department of Education (ED)
Department of Housing and Urban Development (HUD)*
Health Resources and Services Administration (HRSA)
National Institutes of Health (NIH)
Social Security Administration (SSA)*
Substance Abuse & Mental Health Services Administration (SAMHSA)*

Private Organizations

Autism Consortium
Autism Speaks
Autism Research Institute (ARI)
Center for Autism and Related Disabilities
The Doug Flutie Jr. Foundation for Autism*
Organization for Autism Research (OAR)
Southwest Autism Research and Resource Center (SARRC)
Simons Foundation (Simons)
* Indicates organizations that reported that they had not funded ASD research in 2008.
Table 1. The table lists the nineteen Federal agencies and private organizations included in the 2008 analysis of ASD research funding and indicates whether the organization funded ASD research during the year. Six of the eleven Federal agencies that were approached for the portfolio analysis reported funding ASD research, as did seven of the eight private organizations.
Back to Top