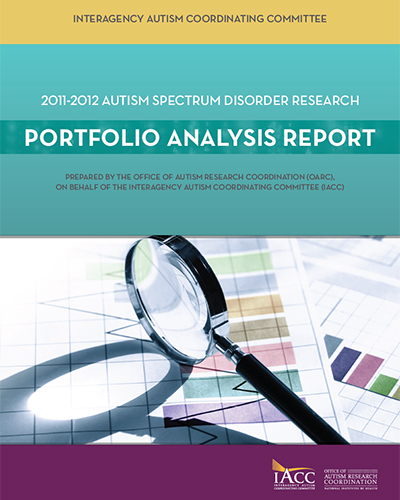 Portfolio Analysis Report
IACC Autism Spectrum Disorder Research
2011 - 2012
Download Full PDF (4 MB)

Who funded ASD research in 2011 and 2012?
The Office of Autism Research Coordination (OARC) requested 2011 and 2012 autism-related research project and funding information from several Federal agencies and private organizations, including the annual budget for each project and its relevance to the seven critical questions/chapters of the 2011 IACC Strategic Plan for ASD Research. Twelve Federal agencies and eight private funders provided their autism funding data for this analysis. These 20 agencies and organizations are listed in Table 1. Read more.
What Types of ASD Research were Funded?
To better understand what areas of research were funded in 2011 and 2012, projects were aligned with the corresponding questions in the 2011 IACC Strategic Plan. Figures 8 and 9 illustrate the breakdown of the research funding according to the Strategic Plan's seven questions related to Screening and Diagnosis, Biology, Risk Factors, Treatments and Interventions, Services, Lifespan Issues, and Infrastructure and Surveillance. Read more.
How did the Research Projects Funded in 2011 and 2012 Align with the Objectives in the IACC Strategic Plan?
The 78 Strategic Plan objectives were developed by the IACC to set priorities for investment, and they represent areas where the Committee perceived gaps in research that required further research efforts. Thus, areas of research that were already well-established and funded, and research fields that have emerged more recently, are not represented among the IACC Strategic Plan's objectives. Read more.
In 2010, OARC introduced the subcategory classification system (Figure 16) to the IACC Portfolio Analysis Report to help the Committee and other readers of this report better understand the types of research encompassed by the projects in the research portfolio – especially those projects that are categorized as outside the objectives of the Strategic Plan but within a question's research area – projects designated as Core/Other (as described in the previous section). Read more.
Analysis of Progress Toward IACC Strategic Plan Objectives
The 78 objectives in the Strategic Plan describe specific research priorities identified by the IACC, each with a goal date for initiation and a professional judgment estimate of the budget that may be required to accomplish the objective. Each ASD project that received funding in 2011 and 2012 was evaluated with respect to the 78 objectives in the 2011 IACC Strategic Plan for ASD Research in order to determine which Strategic Plan question and objective it fulfilled. Read more.
Back to Top