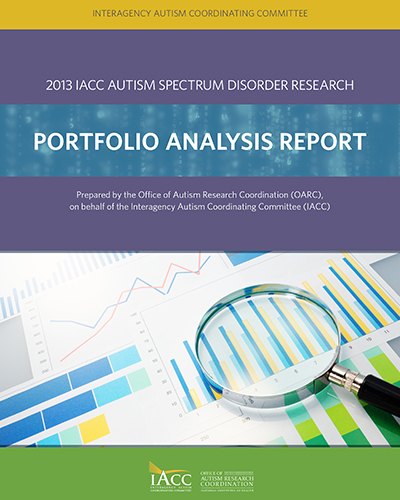 Portfolio Analysis Report
IACC Autism Spectrum Disorder Research
2013
Download Full PDF (13 MB)

ASD Research Funders and Funding in 2013
Ten Federal agencies and eight private funders provided their autism funding data for this analysis. These 18 agencies and organizations are listed in Table 1. The Patient-Centered Outcomes Research Institute (PCORI) is a new private funder submitting ASD research to the IACC Portfolio Analysis. PCORI was authorized by the Patient Protection and Affordable Care Act of 2010 to fund comparative clinical effectiveness research to help inform healthcare decision-making. Read more.
ASD Research Areas and Progress in 2013
To better understand what areas of research were funded in 2013, projects were aligned with the corresponding questions in the 2011 IACC Strategic Plan. Figure 7 illustrates the breakdown of the research funding according to the Strategic Plan's seven questions related to Screening and Diagnosis (Q1), Biology (Q2), Risk Factors (Q3), Treatments and Interventions (Q4), Services (Q5), Lifespan Issues (Q6), and Infrastructure and Surveillance (Q7). Read more.
Analysis of Progress Toward IACC Strategic Plan Objectives by Research Area
Question 1 of the IACC Strategic Plan ("When should I be concerned?") pertains to the issues surrounding screening for and diagnosis of ASD, with a focus on early identification of children showing signs of ASD so that they have the opportunity to receive interventions and supports that will lead to improved outcomes. The objectives within this chapter of the Strategic Plan include research to develop biomarkers, screening tools, and diagnostic instruments to aid in early identification. Read more.
The 2013 ASD Research Funding Portfolio Analysis Report is the fifth comprehensive annual review of ASD research funding across both the Federal and private sectors. Data were collected from 18 Federal and private funders, including one which was new to the Portfolio Analysis. The diverse missions of the different funders are reflected in the ASD research portfolio across the seven questions of the Strategic Plan. In 2013, Federal agencies continued to fund three-quarters of ASD research while private organizations contributed a quarter of funding. Read more.
Back to Top