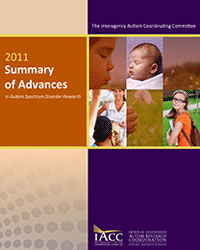 Summary of Advances
In Autism Spectrum Disorder Research
2011
Download Full PDF (1 MB)

Question 1: When Should I Be Concerned?
Disrupted neural synchronization in toddlers with autism: A study of sleeping toddlers identified patterns of abnormal neural activity that could aid in the early diagnosis of autism and help to understand underlying causes. Using functional magnetic resonance imaging (fMRI), researchers found that 72 percent of children with ASD showed decreased synchronization across brain hemispheres in areas commonly associated with language and communication. Read more.
Question 2: How Can I Understand What Is Happening?
Mutations causing syndromic autism define an axis of synaptic pathophysiology: New research reveals that two genetic forms of autism, fragile X syndrome and tuberous sclerosis, are actually caused by opposite malfunctions – while fragile X is caused by overproduction of proteins at the synapse, tuberous sclerosis is caused by underproduction. Read more.
Question 3: What Caused This to Happen and Can This Be Prevented?
Genetic heritability and shared environmental factors among twin pairs with autism: Recent research suggests that environmental factors may play a much greater role in autism risk than previously suspected and could even be more influential than genetic factors. These findings stem from a study of autism in twins, the largest of its kind, designed to model the genetic and environmental factors that contribute to the development of autism. Read more.
Question 4: Which Treatments and Interventions Will Help?
A systematic review of medical treatments for children with autism spectrum disorders: Researchers conducted a systematic literature review to evaluate the effectiveness of drug treatments for children with autism spectrum disorder, age 12 and younger. While there was strikingly little evidence to support the benefits of most medications prescribed for children with ASD, the antipsychotics risperidone and aripiprazole showed clear benefit for managing challenging and repetitive behavior. Read more.
Question 5: Where Can I Turn for Services?
Post-high school service use among young adults with an autism spectrum disorder: A study of service use among young adults with autism showed a dramatic decline in the use of services after leaving high school. Use of medical, mental health, and case management services decreased, with nearly two-fifths (39%) of young adults reportedly receiving no services at all. Read more.
Question 6: What Does the Future Hold, Particularly for Adults?
Epidemiology of autism spectrum disorders in adults in the community in England : Approximately 1 percent of adults in England have autism spectrum disorder, based on one of the first studies of adult prevalence in the country. Previous studies have relied primarily on self-report which can be unreliable. Read more.
Question 7: What Other Infrastructure and Surveillance Needs Must Be Met?
Trends in the prevalence of developmental disabilities in US children 1997-2008: Developmental disorders among children in the U.S. increased in prevalence by 17.1 percent from 1997 to 2008, affecting an estimated 1.8 million more children than a decade before. Of all developmental disorders, autism showed the most growth, increasing 289 percent over the twelve-year time frame. Read more.
Back to Top