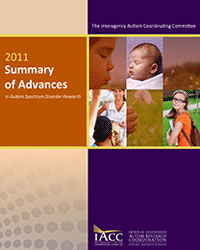 Summary of Advances
In Autism Spectrum Disorder Research
2011
Download Full PDF (1 MB)

Question 6: What Does the Future Hold, Particularly for Adults?
Epidemiology of autism spectrum disorders in adults in the community in England – Brugha TS, McManus S, Bankart J, Scott F, Purdon S, Smith J, Bettington P, Jenkins R, Meltzer H. Arch Gen Psychiatry. 2011 May;68(5):459-65. [PMID: 21536975]
Approximately 1 percent of adults in England have autism spectrum disorder, based on one of the first studies of adult prevalence in the country. Previous studies have relied primarily on self-report which can be unreliable. To determine what proportion of the English population age 16 years and older is affected by autism, researchers conducted a multiphase study to screen adults in the community. They hypothesized that the rate of autism would be much lower in older adults than in children and that adults on the spectrum would be predominately male and socially disadvantaged. In the first phase of the study, participants selected from the 2007 Adult Psychiatric Morbidity Survey in England completed the Autism-Spectrum Quotient self-questionnaire. The answers to this and other self-assessments helped the investigators select 618 individuals from the initial 7,461 respondents to interview using the Autism Diagnostic Observation Schedule (ADOS-4). Based on the results of screening using the tool, 19 people met the criteria for autism spectrum disorder representing a prevalence rate of 9.8 per 1,000 individuals, or nearly 1 percent. While only a small number of individuals were identified, many were living in social housing and had the lowest levels of education, reinforcing the authors' hypothesis that those with autism are more likely to be socially disadvantaged. None of these associations, however, were statistically significant. The authors note that the prevalence rate identified in this study is similar to the rate reported among children, supporting the idea that autism rates have not changed significantly over time. Due to the small sample of adults with ASD, they were unable to examine differences in adult prevalence by age. The findings suggest that adults with ASD may be undiagnosed and socially disadvantaged, which has significant public health implications.
Autism spectrum disorders in older adults: Toward defining a research agenda – Piven J, Rabins P. Autism in Older Adults Working Group. J Am Geriatr Soc. 2011 Nov;59(11):2151-55. [PMID: 22091837]
Relatively little is known about older adults with autism spectrum disorder – few studies have been done to determine how behaviors and symptoms change over time, how aging may impact people with ASD differently, and whether findings in children and young adults with ASD generalize to the older adult population. Based on current estimates, by 2030 there will be approximately 700,000 adults with ASD over the age of 65. Much work must be done to identify the unique service needs of this group and ensure that adequate long-term care options exist. To address the lack of knowledge about older adults with ASD, a multidisciplinary group convened in March 2010 to begin defining a research agenda to address the needs of the population. The group defined six research priorities, the first of which was the need for diagnostic criteria and instruments to identify individuals based on adult symptom profiles. Based on findings from a recent study in England, rates of autism appear to be relatively similar across generations suggesting that there is a large group of older adults with ASD who have gone undiagnosed. Second, the group noted the need for studies characterizing symptoms, behaviors, and co-occurring conditions in adults, as well as available services and supports. Other priorities include the need for longitudinal research to study lifespan trajectories, neurobiological research to study how the autistic brain ages, and studies of different types of interventions for use with older adults on the spectrum. Finally, the group indentified the need to support training that would attract young researchers and clinicians to the emerging field of aging and autism. These proposed priorities should begin to answer questions about autism and aging in an effort to address individual needs and gauge its potential impact on the healthcare system and society.
Emerging new practices in technology to support independent community access for people with intellectual and cognitive disabilities – Stock SE, Davies DK, Wehmeyer ML, Lachapelle Y. NeuroRehabilitation. 2011;28(3):261-9. [PMID: 21558631]
New technology holds promise for helping people with cognitive disabilities access their community. A recent paper describes the various electronic devices and software applications currently on the market to help individuals navigate their community on foot and by public transit. While being unable to navigate one's community without assistance is a major barrier to community inclusion, little research has been devoted to exploring technologies that could promote community access. The authors review some of the advantages and drawbacks of emerging technologies for community access, and report results from a case study of a smartphone application in use. Of the technologies discussed, computer based video instruction (CBVI) has shown promise in small trials. Using CBVI, individuals are able to rehearse their routes using video shot from a first-person perspective while a voice-over gives instructions such as "push the request for stop signal when you see the Target sign." A three- person trial of CBVI found that two of the three participants were able to successfully generalize the skills they had rehearsed while on a public bus. Global Positioning System (GPS) technology used together with pictures of landmarks and audio cues has also been shown to be effective – 24 out of 26 participants successfully traveled to a new destination unaccompanied using the system. A case study of a 19-year-old man with Down syndrome documented his use of a similar smartphone application to complete routes to four new destinations. Both he and his parents were extremely positive about the technology. In addition to enhancing self-determination and community integration, enabling people with cognitive disabilities to use public transit offers cost-savings. For example, a mid-size city would save more than $4,500 annually for each individual with cognitive disabilities who took a standard bus rather than specialized para-transit services.
Back to Top