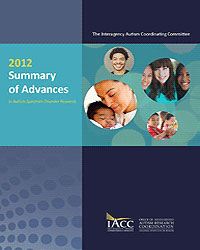 Summary of Advances
In Autism Spectrum Disorder Research
2012
Download Full PDF (2 MB)

Question 1: When Should I Be Concerned?
Six developmental trajectories characterize children with autism: ASD is a neurodevelopmental disorder that varies in both symptoms and progression. While children with ASD usually retain their diagnosis throughout adolescence and adulthood, very little is known about the range of developmental trajectories across the lifespan. Read more.
Question 2: How Can I Understand What Is Happening?
Mutations in BCKD-kinase lead to a potentially treatable form of autism with epilepsy: ASD is often complicated by co-occurring conditions such as epilepsy, which occurs in about 25% of individuals with ASD, as well as intellectual disability. Analyzing the DNA of individuals with these co-occurring conditions could identify gene mutations that may contribute to the cause of ASD in this subgroup of individuals. Read more.
Question 3: What Caused This to Happen and Can It Be Prevented?
Autism after infection, febrile episodes, and antibiotic use during pregnancy: An exploratory study: Exposure to certain environmental factors during pregnancy has long been implicated in the potential development of ASD in offspring. Findings from animal studies suggest that the stimulation of a woman's immune system during pregnancy caused by events such as infection may be associated with abnormal brain development in the fetus. Read more.
Question 4: Which Treatments and Interventions Will Help?
Effects of STX209 (arbaclofen) on neurobehavioral function in children and adults with fragile X syndrome: A randomized, controlled, phase 2 trial: While the genes implicated in the development of ASD number in the hundreds, much attention has focused on fragile X syndrome (FXS). FXS, caused by a mutation on a single gene (known as FMR1), is the most common single-gene cause of ASD and of inherited intellectual disability in boys. Read more.
Question 5: Where Can I Turn for Services?
Occurrence and family impact of elopement in children with autism spectrum disorders: Anecdotal accounts have suggested that elopement, or wandering, behavior is common in children with ASD, but little research had been done to characterize this behavior or to determine its frequency. Read more.
Question 6: What Does the Future Hold, Particularly for Adults?
Do sheltered workshops enhance employment outcomes for adults with autism spectrum disorder?: The transition to employment is one point of the lifespan when extra support programs could help individuals with ASD prepare for the challenges of the workplace environment. Read more.
Question 7: What Other Infrastructure and Surveillance Needs Must Be Met?
Prevalence of Autism Spectrum Disorders - Autism and Developmental Disabilities Monitoring Network, 14 Sites, United States, 2008: The Centers for Disease Control and Prevention's (CDC) Autism and Developmental Disabilities Monitoring (ADDM) Network is an active surveillance system established in 2000 to monitor the prevalence of ASD in children in the U.S., and new prevalence statistics are released every 2 years. Read more.
Back to Top