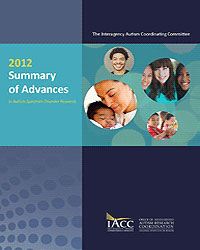 Summary of Advances
In Autism Spectrum Disorder Research
2012
Download Full PDF (2 MB)

Question 7: What Other Infrastructure and Surveillance Needs Must Be Met?
Prevalence of Autism Spectrum Disorders - Autism and Developmental Disabilities Monitoring Network, 14 Sites, United States, 2008 – Centers for Disease Control and Prevention (CDC); Autism and Developmental Disabilities Monitoring Network - Surveillance Year 2008 Principal Investigators. MMWR Surveill Summ. 2012 Mar; 61(3):1-19. [PMID: 22456193]
The Centers for Disease Control and Prevention's (CDC) Autism and Developmental Disabilities Monitoring (ADDM) Network is an active surveillance system established in 2000 to monitor the prevalence of ASD in children in the U.S., and new prevalence statistics are released every 2 years.  CDC issued its latest prevalence estimate from the 2008 surveillance year, which was based on a study population of 337,093 8-year-old children at 14 sites across the country. Among these children, those whose health or education records showed possible signs of ASD were selected for a detailed records review by trained clinicians to determine whether or not the child had ASD. With these data, the estimated prevalence of ASD in 2008 across all ADDM sites was 1 in 88 children. However, the prevalence range among the sites differed considerably, from 4.8 per 1,000 children (1 in 208) in Alabama to 21.2 per 1,000 children (1 in 47) in Utah. Overall, the average prevalence amounts to a 23% increase from 2006 to 2008 and a 78% increase from 2002 to 2008. As in previous years, the prevalence of ASD in boys (1 in 54) was significantly higher than the prevalence among girls (1 in 252). The prevalence of ASD also varied by race and ethnicity, with the highest prevalence in non-Hispanic white children (12 per 1,000), compared to non-Hispanic black children (10.2 per 1,000) and Hispanic children (7.9 per 1,000). Over time, the largest increases in ASD prevalence were found among Hispanic children and non-Hispanic black children as well as among children without co-occurring intellectual disabilities. Together, the results of this report suggested that ASD prevalence has been rising in most ADDM Network sites, but the extent to which these increases reflected better identification of children with ASD as a result of increased awareness and access to services versus true increases in prevalence of ASD was not known. Further investigation is needed to determine how disparities related to race, ethnicity, and societal factors (such as income, education, and occupation) could affect the prevalence estimates. For example, disparities in access to services or trained professionals who can provide a proper diagnosis could result in an underestimation of the number of children with ASD in a given population. Continued surveillance efforts will be needed to monitor changes in prevalence over time to ensure that appropriate services are made available to help children with ASD achieve their greatest potential.
Back to Top