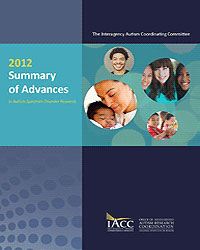 Summary of Advances
In Autism Spectrum Disorder Research
2012
Download Full PDF (2 MB)

Question 6: What Does the Future Hold, Particularly for Adults?
Do sheltered workshops enhance employment outcomes for adults with autism spectrum disorder? – Cimera RE, Wehman P, West M, Burgess S. Autism. 2012 Jan;16(1):87-94. [PMID: 21610189]
The transition to employment is one point of the lifespan when extra support programs could help individuals with ASD prepare for the challenges of the workplace environment. Sheltered workshops are programs that assist people with disabilities in preparing for competitive employment by providing skill training, job counseling, and other related services, in addition to work experiences alongside other individuals with disabilities. This study assessed whether sheltered workshops resulted in improved employment outcomes for individuals with ASD versus entering community-based employment without having prior sheltered workshop experience. Using the U.S. Department of Education's Rehabilitation Services Administration (RSA) 911 database, which contains records of everyone who applies for vocational rehabilitation services, researchers compared two groups of supported employees with ASD. Supported employees receive vocational assistance such as job coaches, job development and training, transportation, assistive technology, and individually tailored supervision to help them maintain employment. One of the groups was composed of individuals with ASD who had participated in sheltered workshops prior to entering supported employment in the community, and the other group of individuals had not participated in sheltered workshops and directly entered supported, community-based employment. The two groups were compared in four areas, including rates of employment, hours worked, wages earned, and cost of services received. Results showed no difference between the two groups in terms of rate of employment or number of hours worked. However, the earnings of individuals who had participated in sheltered workshops were significantly less than those who had not had a sheltered workshop experience prior to seeking supported, community-based employment, and the cost to provide services for the individuals in sheltered workshops was significantly more than the comparison group. Thus, these data indicated that individuals with ASD do not achieve better employment outcomes if they participate in sheltered workshops prior to enrolling in supported, community-based employment programs. The researchers suggested that these unexpected results could be influenced by a number of factors. For example, individuals in sheltered workshops may have been more severely impaired compared to individuals who did not participate in the workshops, or participants and families in the sheltered workshops may have been concerned about losing disability benefits if they became employed at higher pay levels, so they may have intentionally accepted underemployment in order to maintain benefits. Conversely, another possibility is that  individuals who did not participate in sheltered workshops may have been more challenged and motivated to get and keep higher paying jobs, or they may have learned better work behaviors that helped them gain and maintain higher levels of employment. Additional research into the factors that contribute to successful competitive employment for individuals with ASD will be needed to continue optimizing vocational services for this population.
Postsecondary education and employment among youth with an autism spectrum disorder – Shattuck PT, Narendorf SC, Cooper B, Sterzing PR, Wagner M, Taylor JL. Pediatrics. 2012 Jun;129(6):1042-9. [PMID: 22585766]
In the U.S. alone this year, approximately 50,000 adolescents with ASD will turn 18 years old and age out of the education system that provided them with much-needed supports, raising national concern over how society will be able to ensure quality of life across the lifespan for these individuals. Relatively little research has focused on this topic, and generalizability has been limited in previous studies by small samples. However, the findings prior to this study suggested low rates of employment and postsecondary education for youth with ASD. In this study, researchers used data from the 500 parents/guardians and youth who took part in the U.S. Department of Education's National Longitudinal Transition Study 2 (NLTS2)—a 10-year prospective study of youth receiving special education services through their transition to adulthood—from which they examined participation in postsecondary employment, college or university education, or vocational training in a large national sample. The findings indicated that post-high school, 34.7% of youth with ASD had attended university or college, 55.1% had held paid employment since high school, and 9.3% had attended a vocational or technical education program. However, more than half of those who left high school in the past 2 years had not participated in employment or education. Compared with youth in the three other disability categories studied—speech impairment, learning disability, and mental retardation—those with ASD had significantly lower rates of employment. In addition, individuals within this group from lower-income families, with greater functional impairments, or of Hispanic or African-American ethnicity were at heightened risk of poor education and employment outcomes. Overall, the findings indicate that youth with ASD have poor postsecondary employment and education outcomes, especially in the first 2 years after high school. As the size of the young adult ASD population continues to grow, further research is needed to understand how transition planning before the end of high school can facilitate improved continuation on to postsecondary activities.
Developmental trajectories in adolescents and adults with autism: The case of daily living skills – Smith LE, Maenner MJ, Seltzer MM. J Am Acad Child Adolesc Psychiatry. 2012 Jun;51(6):622-31. [PMID: 22632621]
Developing independence in daily living skills is an important factor for successful outcomes for adolescents and adults with autism spectrum disorders (ASD). Daily living skills are the behaviors that are necessary for age-appropriate, independent functioning in social, communication, daily living, or motor areas. However, few studies have explored how daily living skills are developed in adolescents and adults with ASD. This study investigated the change in daily living skills over a 10-year period in 406 adolescents and adults with ASD between 10 and 52 years old. As a context for comparison, a group of individuals with Down syndrome (DS) were also studied because these individuals tend to have higher levels of daily living skills than those with other intellectual disabilities. Researchers evaluated the individuals with ASD and DS using the Waisman Activities of Daily Living Scale (W-ADL) at four time points during the 10-year study. The W-ADL enables parents to rate their son or daughter's level of independence on 17 items, including personal care, housekeeping, and meal-related activities. Based on results from the W-ADL, investigators developed a growth curve to show the path of change in daily living skills. The daily living skills of individuals with ASD improved through their adolescence and early 20s, but then leveled off in their late 20s. Additionally, having an intellectual disability was associated with lower initial levels of daily living skills as well as slower skill growth over time for individuals with ASD. In contrast, the individuals with Down syndrome continued to gain daily living skills over time. These results indicate that while adolescence is a period of growth and improvement in a variety of areas for individuals with ASD, research is needed to explore what factors may facilitate continued growth in daily living skills for adults with ASD. Developing the best methods to encourage this growth could enable adults with ASD to live more independent lives.
A systematic review of vocational interventions for young adults with autism spectrum disorders – Taylor JL, McPheeters ML, Sathe NA, Dove D, Veenstra-Vanderweele J, Warren Z. Pediatrics. 2012 Sep;130(3):531-8. [PMID: 22926170]
The transition to adulthood is a challenging time for many individuals with ASD. Moving from the supports provided by the education system to employment can be particularly difficult, and interventions targeted at this transition may improve outcomes and quality of life for adults with ASD. This study systematically reviewed existing research on the effectiveness of vocational/employment interventions for individuals with ASD between 13 and 30 years of age. Researchers found only five studies related to vocational intervention that met the requirements to be included in this review (for example, studies had to have at least 20 participants). All five studies focused on "on-the-job" supports as the particular vocational/employment intervention. The studies were each determined to be of poor quality because they were relatively small and lacked the random assignment, appropriate control groups, and follow-up study that would be necessary to draw strong conclusions about the effectiveness of the programs. However, each of the studies did find evidence of positive benefits for vocational interventions on employment measures or ASD symptoms. Thus, while the strength of evidence for positive outcomes of vocational interventions is insufficient at this time, possibly due to the emerging nature of this field of research, this review indicates that future research using more rigorous study methods should be done to more conclusively determine whether vocational/employment interventions are helpful as well as which types of interventions may be most effective. In particular, long-term data need to be collected to assess the length of time that improvements continue after an intervention stops, and the outcome measures should be broadened to include factors such as quality of life, social and residential outcomes, and educational achievement. Research into understanding how individual differences in ASD (such as symptom severity or co-occurring conditions) may affect which interventions are most beneficial could enable targeting interventions to those who will receive the most benefit. The financial impact of vocational/employment interventions on individuals, families, and the overall economy should also be investigated. Collectively, these additional studies could help create the evidence base needed to better serve the growing number of individuals with ASD approaching adulthood.
Back to Top