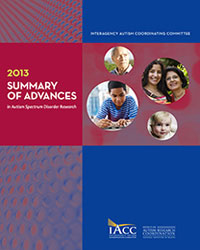 Summary of Advances
In Autism Spectrum Disorder Research
2013
Download Full PDF (3 MB)

Question 1: When Should I Be Concerned?
Effectiveness of developmental screening in an urban setting: Research suggests that early identification paired with early intervention leads to better outcomes in children with ASD. Read more.
Question 2: How Can I Understand What Is Happening?
Gastrointestinal problems in children with autism, developmental delays or typical development: Gastrointestinal (GI) problems associated with ASD are a common concern among many families who have a child with ASD. Read more.
Question 3: What Caused This to Happen and Can It Be Prevented?
Maternal antibodies from mothers of children with autism alter brain growth and social behavior development in the rhesus monkey: These differences were most pronounced in the frontal lobes, a brain area that is key to social cognition. Both the behavioral and brain differences observed in the treated monkey offspring mirror some of the differences that have been observed in children with ASD, suggesting the possibility that exposure to maternal autoantibodies in humans may in some way be contributing toward the development of ASD in children. Read more.
Question 4: Which Treatments and Interventions Will Help?
Preschool based JASPER intervention in minimally verbal children with autism: pilot RCT: Children with ASD who attain verbal skills by 5 years of age have been found to demonstrate the best social outcomes. Early intervention studies have found that improvement in such skills as joint attention can positively impact the development of verbal communication in these children. Read more.
Question 5: Where Can I Turn for Services?
Comparative efficacy of LEAP, TEACCH and non-model-specific special education programs for preschoolers with autism spectrum disorders: For children with ASD, early intervention can greatly enhance social, behavioral, and cognitive skills, leading to more favorable developmental trajectories and improved outcomes. Like most young children, those with ASD spend a significant amount of time in school settings; therefore, it is critically important to ensure that school- based treatment programs are efficacious. Read more.
Question 6: What Does the Future Hold, Particularly for Adults?
Optimal outcome in individuals with a history of autism: ASD is generally considered to be a lifelong condition. However, recent research demonstrates that some people who have been accurately diagnosed with the disorder as children will subsequently go on to lose their symptoms and hence their ASD diagnosis as they grow up, eventually functioning socially on par with their typically developing peers. Read more.
Question 7: What Other Infrastructure and Surveillance Needs Must Be Met?
Minneapolis Somali autism spectrum disorder prevalence project: Community report 2013: The Minneapolis Somali Autism Spectrum Disorder Prevalence Project was developed to determine if more Somali children aged 7 to 9 had ASD than non-Somali children in Minneapolis in 2010. Read more.
Back to Top