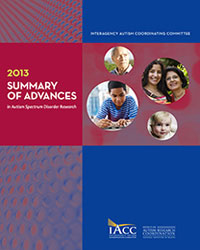 Summary of Advances
In Autism Spectrum Disorder Research
2013
Download Full PDF (3 MB)

Articles Selected for the 2013 Summary of Advances
Question 1: When Should I Be Concerned?
Effectiveness of developmental screening in an urban setting
Attention to eyes is present but in decline in 2-6-month-old infants later diagnosed with autism
Developmental trajectories in children with and without autism spectrum disorders: the first 3 years
Pediatrician identification of Latino children at risk for autism spectrum disorder
Question 2: How Can I Understand What Is Happening?
Gastrointestinal problems in children with autism, developmental delays or typical development
Comorbidity clusters in autism spectrum disorders: an electronic health record time-series analysis
Microbiota modulate behavioral and physiological abnormalities associated with neurodevelopmental disorders
Coexpression networks implicate human midfetal deep cortical projection neurons in the pathogenesis of autism
Integrative functional genomic analyses implicate specific molecular pathways and circuits in autism
Question 3: What Caused This to Happen and Can It Be Prevented?
Maternal antibodies from mothers of children with autism alter brain growth and social behavior development in the rhesus monkey
Autism risk across generations: a population-based study of advancing grandpaternal and paternal age
Association between maternal use of folic acid supplements and risk of autism spectrum disorders in children
Question 4: Which Treatments and Interventions Will Help?
Preschool based JASPER intervention in minimally verbal children with autism: pilot RCT
Oxytocin enhances brain function in children with autism
Question 5: Where Can I Turn for Services?
Comparative efficacy of LEAP, TEACCH and non-model-specific special education programs for preschoolers with autism spectrum disorders
Comparing cognitive outcomes among children with autism spectrum disorders receiving communitybased early intervention in one of three placements
Question 6: What Does the Future Hold, Particularly for Adults?
Optimal outcome in individuals with a history of autism
The cost-effectiveness of supported employment for adults with autism in the United Kingdom
Question 7: What Other Infrastructure and Surveillance Needs Must Be Met?
Minneapolis Somali autism spectrum disorder prevalence project: community report 2013
Evaluating changes in the prevalence of the autism spectrum disorders (ASDs)
Back to Top