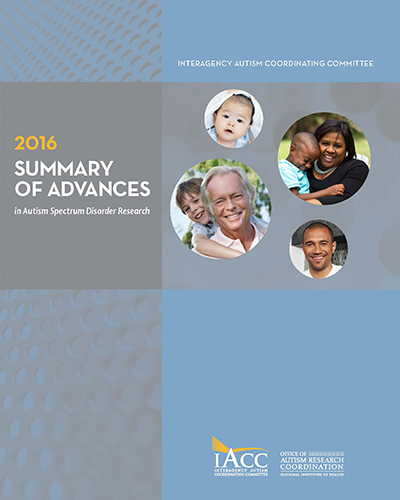 Summary of Advances
In Autism Spectrum Disorder Research
2016
Download Full PDF (3 MB)

Articles Selected for the 2016 Summary of Advances
Question 1: When Should I Be Concerned?
Reduced engagement with social stimuli in 6-month-old infants with later autism spectrum disorder: a longitudinal prospective study of infants at high familial risk
School-age outcomes of infants at risk for autism spectrum disorder
Question 2: How Can I Understand What Is Happening?
Peripheral mechanosensory neuron dysfunction underlies tactile and behavioral deficits in mouse models of ASDs
Genome-wide changes in lncRNA, splicing, and regional gene expression patterns in autism
Gene expression in human brain implicates sexually dimorphic pathways in autism spectrum disorders
Question 3: What Caused This to Happen and Can It Be Prevented?
Effect of co-twin gender on neurodevelopmental symptoms: a twin register study
Risk of psychiatric and neurodevelopmental disorders among siblings of probands with autism spectrum disorders
Association between influenza infection and vaccination during pregnancy and risk of autism spectrum disorder
Question 4: Which Treatments and Interventions Will Help?
Longitudinal effects of adaptive interventions with a speech-generating device in minimally verbal children with ASD
Preschool deployment of evidence-based social communication intervention: JASPER in the classroom
Intervention effects on spoken-language outcomes for children with autism: a systematic review and meta-analysis
Children with autism spectrum disorder and social skills groups at school: a randomized trial comparing intervention approach and peer composition
Parent-mediated social communication therapy for young children with autism (PACT): long-term follow-up of a randomised controlled trial
Brain responses to biological motion predict treatment outcome in young children with autism
Question 5: Where Can I Turn for Services?
The effects of Medicaid home and community-based services waivers on unmet needs among children with autism spectrum disorder
Effects of autism spectrum disorder insurance mandates on the treated prevalence of autism spectrum disorder
Sociodemographic disparities in intervention service utilization in families of children with autism spectrum disorder
Question 6: What Does the Future Hold, Particularly for Adults?
Premature mortality in autism spectrum disorder
Effects of an employer-based intervention on employment outcomes for youth with significant support needs due to autism
Question 7: What Other Infrastructure and Surveillance Needs Must Be Met?
Prevalence and characteristics of autism spectrum disorder among children aged 8 years—Autism and Developmental Disabilities Monitoring Network, 11 sites, United States, 2012
Back to Top