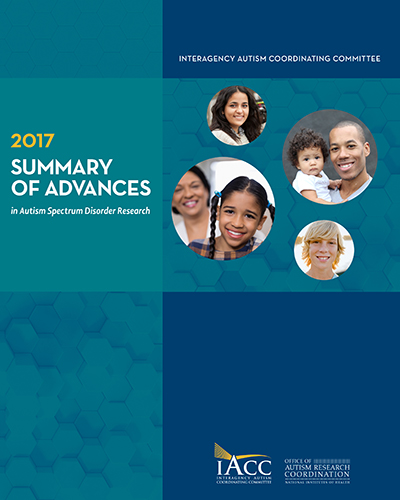 Summary of Advances
In Autism Spectrum Disorder Research
2017
Download Full PDF (5 MB)

Articles Selected for the 2017 Summary of Advances
1) Race influences parent report of concerns about symptoms of autism spectrum disorder. 2) Functional neuroimaging of high-risk 6-month-old infants predicts a diagnosis of autism at 24 months of age. 3) Early brain development in infants at high risk for autism spectrum disorder. All articles.
Question 1: How Can I Recognize the Signs of ASD, and Why is Early Detection So Important?
Race influences parent report of concerns about symptoms of autism spectrum disorder: The average age of diagnosis of ASD in the U.S. is 4 years old, but most parents first report concerns about behavior much earlier, during the first two years of the child's life. Early ASD diagnosis is important because it facilitates earlier intervention that may help children make greater gains in their skills and functioning by school age. Read more.
Question 2: What is the Biology Underlying ASD?
Infant viewing of social scenes is under genetic control and is atypical in autism: Social visual engagement — visual attentiveness and engagement with social cues — is one of the earliest observable actions of infants and plays an important role in how infants learn to socially interact with others. Children with ASD frequently display impairment of social visual engagement, a deficit that can be detected as early as the first six months of life. Read more.
Question 3: What Causes ASD, and Can Disabling Aspects of ASD Be Prevented or Preempted?
Cross-tissue integration of genetic and epigenetic data offers insight into autism spectrum disorder: Development of ASD is thought to be due in part to genetic factors. Although no single genetic variation has been discovered that is sufficient to cause ASD, current research has provided some insight into variations in gene expression and modifications that are associated with increased ASD risk. Read more.
Question 4: Which Treatments and Interventions Will Help?
Adaptive behavior in autism: minimal clinically important differences on the Vineland-II: ASD is associated with impairments in adaptive behaviors, including social, communication, and independent living skills. Several assessment instruments exist for measuring these impairments, including the Vineland Adaptive Behavior Scales, Second Edition (Vineland-II). Read more.
Question 5: What Kinds of Services and Supports Are Needed to Maximize Quality of Life For People On The Autism Spectrum?
Effects of state insurance mandates on health care use and spending for autism spectrum disorder: Though children and adults with ASD often require significant support from healthcare systems, commercial insurers have historically provided little coverage of ASD assessment and treatment. As of spring 2018, forty-six states and the District of Columbia have enacted autism insurance mandate legislation, which require commercial insurance plans to pay for services for children with ASD. Read more.
Question 6: How Can We Meet the Needs of People with ASD as They Progress Into and Through Adulthood?
Injury mortality in individuals with autism: Research suggests that individuals with ASD are at higher risk of early death than the general population. Previous studies have suggested that this increased risk may be associated with intentional and unintentional injuries, however these studies have been limited by population size and location. The goal of this study was to examine the causes of death in a large population of individuals with ASD in the U.S. who died between 1999 and 2014. Read more.
Question 7: How Do We Continue to Build, Expand, and Enhance the Infrastructure System to Meet the Needs of the ASD Community?
Autism spectrum disorder among US children (2002-2010): socioeconomic, racial, and ethnic disparities: Evidence suggests that there are socioeconomic and racial disparities in the prevalence of ASD in the United States. The researchers previously found that ASD tends to be more prevalent among non-Hispanic White children than either non-Hispanic Black children or Hispanic children, as well as among children from families with higher socioeconomic status (SES). Read more.
Back to Top