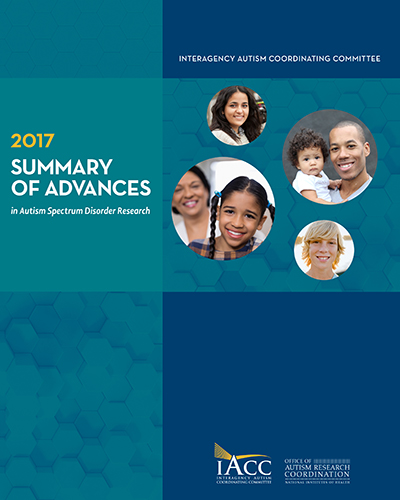 Summary of Advances
In Autism Spectrum Disorder Research
2017
Download Full PDF (5 MB)

Articles Selected for the 2017 Summary of Advances
Question 1: How Can I Recognize The Signs Of ASD, and Why Is Early Detection So Important?
Race influences parent report of concerns about symptoms of autism spectrum disorder
Functional neuroimaging of high-risk 6-month-old infants predicts a diagnosis of autism at 24 months of age
Early brain development in infants at high risk for autism spectrum disorder
A prospective study of the concordance of DSM-IV and DSM-5 diagnostic criteria for autism spectrum disorder
Question 2: What Is the Biology Underlying ASD?
Infant viewing of social scenes is under genetic control and is atypical in autism
What will my child's future hold? Phenotypes of intellectual development in 2-8-year-olds with autism spectrum disorder
Question 3: What Causes ASD, and Can Disabling Aspects of ASD be Prevented or Preempted?
Cross-tissue integration of genetic and epigenetic data offers insight into autism spectrum disorder
Fetal and postnatal metal dysregulation in autism
Prenatal exposure to fever is associated with autism spectrum disorder in the Boston Birth Cohort
Maternal multivitamin intake, plasma folate and vitamin B12 levels and autism spectrum disorder risk in offspring
Autism risk following antidepressant medication during pregnancy
The association between maternal use of folic acid supplements during pregnancy and risk of autism spectrum disorders in children: a meta-analysis
Question 4: Which Treatments and Interventions Will Help?
Adaptive behavior in autism: minimal clinically important differences on the Vineland-II
A randomized, placebo-controlled trial of metformin for the treatment of overweight induced by antipsychotic medication in young people with autism spectrum disorder: open-label extension
Parent-delivered early intervention in infants at risk for ASD: effects on electrophysiological and habituation measures of social attention
Question 5: What Kinds Of Services and Supports are Needed To Maximize Quality Of Life For People On The Autism Spectrum?
Effects of state insurance mandates on health care use and spending for autism spectrum disorder
Cost offset associated with Early Start Denver Model for children with autism
Question 6: How Can We Meet The Needs Of People With ASD as They Progress Into and Through Adulthood?
Injury mortality in individuals with autism
Question 7: How Do We Continue To Build, Expand, and Enhance the Infrastructure System To Meet the Needs of the ASD Community?
Autism spectrum disorder among US children (2002-2010): socioeconomic, racial, and ethnic disparities
What is the male-to-female ratio in autism spectrum disorder? A systematic review and meta-analysis
Back to Top