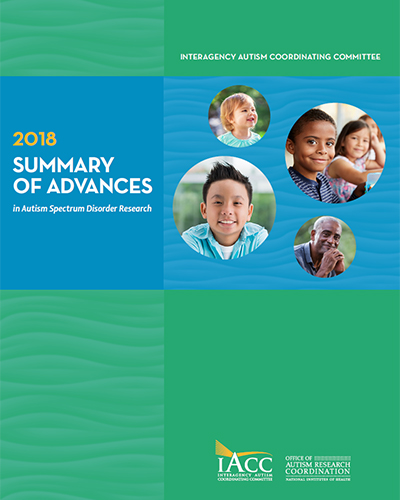 Summary of Advances
In Autism Spectrum Disorder Research
2018
Download Full PDF (2 MB)

Articles Selected for the 2018 Summary of Advances
1) EEG analytics for early detection of autism spectrum disorder: a data-driven approach. 2) Automatic emotion and attention analysis of young children at home: a ResearchKit autism feasibility study. 3) A longitudinal study of parent-reported sensory responsiveness in toddlers at-risk for autism All articles.
Question 1: How Can I Recognize the Signs of ASD, and Why is Early Detection So Important?
EEG Analytics for Early Detection of Autism Spectrum Disorder: A data-driven approach. ASD is usually diagnosed by observing behavioral symptoms in the first few years of a child's life. Because symptoms are highly variable among children, this method of diagnosis can be challenging and may result in a late diagnosis. Read more.
Question 2: What is the Biology Underlying ASD?
Neuron numbers increase in the human amygdala from birth to adulthood, but not in autism. ASD is known to cause changes in global brain volume. However, little is known about the mechanisms underlying atypical brain volume in specific areas of the brain. Read more.
Question 3: What Causes ASD, and Can Disabling Aspects of ASD Be Prevented or Preempted?
Analysis of shared heritability in common disorders of the brain: Brain disorders can be categorized as neurologic, such as Alzheimer's disease, or psychiatric, such as attention deficit hyperactivity disorder (ADHD) or schizophrenia. Read more.
Question 4: Which Treatments and Interventions Will Help?
Cluster randomized trial of the classroom SCERTS intervention for elementary students with autism spectrum disorder: Nearly half a million school-aged children in the United States are estimated to have ASD, therefore it is critical to identify and optimize interventions that will improve their school experiences. Read more.
Question 5: What Kinds of Services and Supports Are Needed to Maximize Quality of Life For People On The Autism Spectrum?
Effects of State Autism Mandate Age Caps on Health Service Use and Spending Among Adolescents: ASD is a lifelong condition, and many people require ASD-related health care into adulthood. Many states have addressed these needs by requiring insurance companies to provide coverage for health services specific to ASD needs. Read more.
Question 6: How Can We Meet the Needs of People with ASD as They Progress Into and Through Adulthood?
Autism spectrum disorder symptoms from ages 2 to 19 years: Implications for diagnosing adolescents and young adults: ASD is typically diagnosed between three to four years old. Less is known about how ASD manifests throughout the lifespan, and most screening instruments for ASD are based on how symptoms present in early childhood. Read more.
Question 7: How Do We Continue to Build, Expand, and Enhance the Infrastructure System to Meet the Needs of the ASD Community?
Prevalence of Autism Spectrum Disorder Among Children Aged 8 Years - Autism and Developmental Disabilities Monitoring Network, 11 Sites, United States, 2014: One of the goals of research on ASD is to understand the prevalence, or number of people with ASD in a given population and the characteristics of those individuals. Read more.
Back to Top