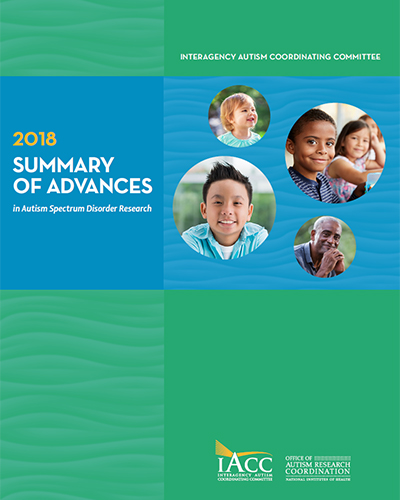 Summary of Advances
In Autism Spectrum Disorder Research
2018
Download Full PDF (2 MB)

Articles Selected for the 2018 Summary of Advances
Question 1: How Can I Recognize The Signs Of ASD, and Why Is Early Detection So Important?
EEG analytics for early detection of autism spectrum disorder: a data-driven approach
Automatic emotion and attention analysis of young children at home: a ResearchKit autism feasibility study
A longitudinal study of parent-reported sensory responsiveness in toddlers at-risk for autism
Question 2: What Is the Biology Underlying ASD?
Neuron numbers increase in the human amygdala from birth to adulthood, but not in autism
Complete disruption of autism-susceptibility genes by gene editing predominantly reduces functional connectivity of isogenic human neurons
Social deficits in Shank3-deficient mouse models of autism are rescued by histone deacetylase (HDAC) inhibition
Question 3: What Causes ASD, and Can Disabling Aspects of ASD be Prevented or Preempted?
Analysis of shared heritability in common disorders of the brain
Paternally inherited cis-regulatory structural variants are associated with autism
Shared molecular neuropathology across major psychiatric disorders parallels polygenic overlap
Transcriptome-wide isoform-level dysregulation in ASD, schizophrenia, and bipolar disorder
De novo mutations in regulatory elements in neurodevelopmental disorders
Question 4: Which Treatments and Interventions Will Help?
Cluster randomized trial of the classroom SCERTS intervention for elementary students with autism spectrum disorder
Meta-analysis of parent-mediated interventions for young children with autism spectrum disorder
Are children severely affected by autism spectrum disorder underrepresented in treatment studies? An analysis of the literature
Question 5: What Kinds Of Services and Supports are Needed To Maximize Quality Of Life For People On The Autism Spectrum?
Effects of state autism mandate age caps on health service use and spending among adolescents
Vaccination patterns in children after autism spectrum disorder diagnosis and in their younger siblings
Question 6: How Can We Meet The Needs Of People With ASD as They Progress Into and Through Adulthood?
Autism spectrum disorder symptoms from ages 2 to 19 years: implications for diagnosing adolescents and young adults
Psychiatric and medical conditions in transition-aged Individuals with ASD
Understanding service usage and needs for adults with ASD: the importance of living situation
Question 7: How Do We Continue To Build, Expand, and Enhance the Infrastructure System To Meet the Needs of the ASD Community?
Prevalence of autism spectrum disorder among children aged 8 years — Autism and Developmental Disabilities Monitoring Network, 11 sites, United States, 2014.
Back to Top