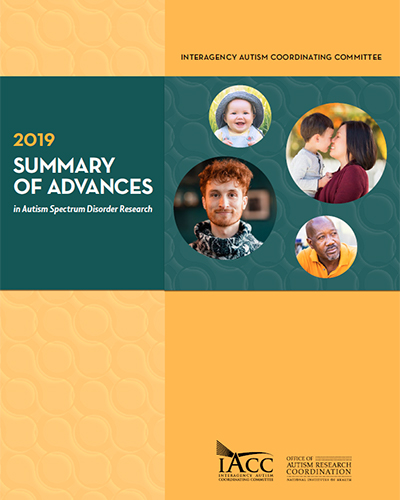 Summary of Advances
In Autism Spectrum Disorder Research
2019
Download Full PDF (2 MB)

Question 5: What Kinds of Services and Supports are Needed to Maximize Quality of Life for People on the Autism Spectrum?
Effectiveness of Training Therapists to Deliver an Individualized Mental Health Intervention for Children with ASD in Publicly Funded Mental Health Services: A Cluster Randomized Clinical Trial
Brookman-Frazee L, Roesch S, Chlebowski C, Baker-Ericzen M, Ganger W. JAMA Psychiatry. 2019 Jun 1;76(6):574-583. [PMID: 30840040]
Approximately 70% of school-aged children with ASD are diagnosed with at least one non-ASD co-occurring psychiatric disorder. These co-occurring conditions frequently present as challenging or disruptive behaviors, which can be confounded with symptoms related to ASD and difficult to treat. Many of these children with ASD receive publicly funded community mental health services. However, mental health providers in these settings often feel ill-equipped to address the complex needs of children with ASD, creating significant concern about the quality of mental health care being provided. There are evidence-based behavioral intervention strategies that have been effective in addressing challenging behaviors in children with ASD, but community mental health providers and therapists typically receive limited or no ASD-specific training in the delivery of these interventions. This can create variability in how mental health providers deliver a given intervention and reduce its effectiveness. Furthermore, no systematic research has been conducted to examine the effectiveness of these interventions within publicly funded community settings.
To address this implementation gap, researchers conducted a study to determine the effectiveness of training therapists on the delivery of An Individualized Mental Health Intervention for ASD (AIM HI). AIM HI comprises a training protocol for therapists in support of a clinical intervention of parent- and child-directed strategies to reduce challenging behaviors in children with ASD. The training protocol for therapists includes an introductory workshop, didactic instruction, and case-specific performance feedback from an AIM HI trainer over the 6-month intervention period.
Therapists were recruited from publicly funded outpatient and school-based mental health programs. Children with ASD were recruited from the caseloads of participating therapists. The children with ASD were aged 5 to 13 years and exhibited both clinically significant ASD symptoms and at least one challenging behavior. Participants were randomly assigned to the AIM HI intervention or a control group that provided routine care as usual. The therapists were assessed for program fidelity in 2 month intervals across the 6 month training period. The children with ASD were assessed for challenging behaviors by parent report using the Eyberg Child Behavior Inventory (ECBI) and the Social Skills Improvement System (SSIS) at the start of the study, and again at 6-, 12-, and 18-month follow-up visits.
A total of 202 children with ASD from 29 publicly funded mental health programs received the AIM HI intervention supported with therapist training. The researchers found significantly greater reduction in both the number and severity of challenging behaviors in children who received the AIM HI intervention as compared to children who received care as usual. When evaluating therapist fidelity to the AIM HI program, the researchers found that children showed greater improvements when their therapist received higher ratings in treatment continuity and session structure during training assessment.
This study was the first to evaluate a behavioral intervention for children with ASD in a publicly funded community mental health setting. The findings support the effectiveness of training mental health providers who are not ASD specialists in reducing challenging behaviors in children with ASD. When non-specialist providers have the opportunity to receive extended training and assessment for psychosocial intervention, the gap between science and practice is reduced—resulting in greater fidelity to the intervention and improved outcomes for children with ASD.
The Effect of Medicaid Waivers on Ameliorating Racial/Ethnic Disparities Among Children with Autism
LaClair M, Mandell DS, Dick AW, Iskandarani K, Stein BD, Leslie DL. Health Serv Res. 2019 Aug;54(4):912-919. [PMID: 31132161]
ASD diagnostic rates vary among children of different races and ethnicities; white, non-Hispanic children tend to be diagnosed with ASD at a younger age, diagnosed more frequently, and are more likely to receive ASD screening and services than black or Hispanic children. To address these disparities, some states have implemented Medicaid Home and Community-Based Services (HCBS) waivers, which increase access to autism services for children who do not qualify for Medicaid or provide services additional to those who are already enrolled in Medicaid.
Research indicates that states offering HCBS waivers report lower racial and ethnic disparities in ASD service access than do states without waivers. Some state waivers are considered more generous, meaning that they may have higher spending limits or enroll more children. Additionally, higher-income families—who are more likely to have the resources needed to complete the time-intensive HCBS waiver enrollment process—may benefit disproportionately from more generous HCBS policies. Therefore, it is possible that the use of HCBS waivers may intensify, rather than reduce, racial and ethnic disparities in accessing ASD services.
This study examined the effects of HCBS waivers on reducing racial/ethnic disparities in unmet needs for services among ASD families. Researchers analyzed data on children with ASD and special health care needs aged 2 to 17 years from the National Survey of Children's Health and the National Survey of Children with Special Health Care Needs. States with HCBS waivers that specifically targeted ASD services were included in the study group, while states with non-targeted waivers served as the control group. Researchers considered the following racial and ethnic categories: white non-Hispanic, black non-Hispanic, and Hispanic (black or white).
The researchers found that among children with ASD, 27% of white children, 27% of Hispanic children, and 18% of black children reported unmet needs. More black and Hispanic children had household incomes below the federal poverty line than white children. Increasing generosity of HCBS waivers (as measured by cost, cost limits, and enrollment limits) was associated with reduced unmet needs among black children with ASD compared to white children. There was no significant association between waiver generosity and unmet needs for Hispanic children. Additionally, the presence of a waiver alone was not significantly associated with a change in unmet health care need for any of the groups.
These findings indicate that, although HCBS waivers alone did not reduce disparities in unmet ASD service needs, increasing generosity of waivers was associated with reduced disparities between black and white children with ASD. Critically, HCBS waiver implementation alone is insufficient to reduce existing racial and ethnic inequalities in access to ASD services—rather, the content and characteristics of HCBS waiver policies can help drive reductions in existing disparities.
Back to Top