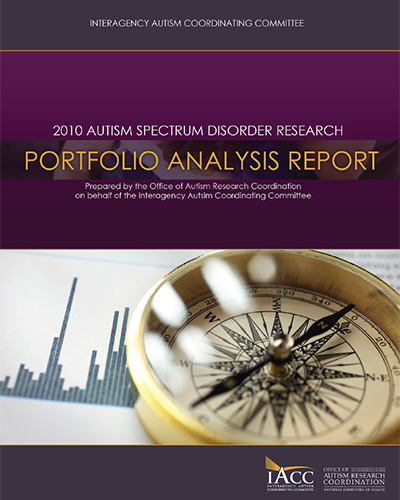 Portfolio Analysis Report
IACC Autism Spectrum Disorder Research
2010
Download Full PDF (3 MB)

Introduction
In 2011, the Office of Autism Research Coordination (OARC), on behalf of the Interagency Autism Coordinating Committee (IACC), conducted a comprehensive analysis of the 2010 autism spectrum disorder (ASD) research portfolio of major Federal agencies and private organizations. This is the third annual analysis of this nature, following the 2009 IACC Portfolio Analysis Report released in 2011 and the 2008 IACC Portfolio Analysis Report released in 2009. The intent of these analyses is to better inform the IACC and interested stakeholders about the funding landscape and current directions for ASD research. Additionally, this analysis examines the extent to which current funding and research topics align with the 2011 IACC Strategic Plan for ASD Research. The 2010 Portfolio Analysis can also be used by Federal agencies and private research organizations to help guide future funding priorities by outlining current gaps and opportunities in ASD research, as well as serving to highlight current activities and research progress.
New Features in the 2010 IACC Portfolio Analysis
The 2010 IACC Portfolio Analysis expands the scope of reporting from prior years by collecting data from five additional funding sources, including four Federal agencies and one private organization. In addition to mapping funded research projects to specific objectives in the Strategic Plan, all of the research projects in this analysis have been assigned to a research subcategory that further organizes the projects into groups that share common elements or themes. These subcategories provide a more detailed breakdown of research funding and also help identify the types of research addressed by projects that do not correspond to specific objectives of the Strategic Plan.
The 2010 autism research portfolio also includes the final year of funding provided by the American Recovery and Reinvestment Act (ARRA), which increased Federal investments in autism research between 2009 and 2010. An overall analysis of the impact of ARRA funding illustrates how these funds were used to address gaps in the 2011 IACC Strategic Plan for ASD Research.
In addition to the release of the 2010 IACC Portfolio Analysis Report, OARC is pleased to release a new online Autism Spectrum Disorder Portfolio Analysis Web Tool. This web tool serves as a companion to the Portfolio Analysis Report, providing detailed information on each research project included in the 2009 and 2010 Portfolio Analyses. The database can be browsed and sorted by several categories, such as "Funder" or "Strategic Plan Question." A search tool enables inquiries based on more specific parameters, such as keywords that may appear in a title or project description. This database will be updated annually with project information from each funder included in the annual IACC Portfolio Analysis and can be used by funders, policymakers, researchers, and autism community stakeholders to gather valuable information about ASD research that can support their efforts to serve the autism community.
Back to Top