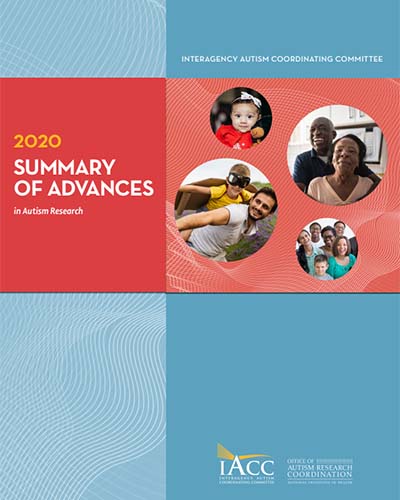 Summary of Advances
In Autism Research
2020
Download PDF

Screening and Diagnosis
Primary Care Autism Screening and Later Autism Diagnosis.
Carbone PS, Campbell K, Wilkes J, Stoddard GJ, Huynh K, Young PC, Gabrielsen TP Pediatrics. 2020 Aug;146(2):e20192314. [PMID: 32632024]
Most children in the U.S. are screened for autism, but disparities persist and implementation of screening across medical practices remains inconsistent.
Background: Early identification of autism allows for early intervention, which is associated with improved longterm outcomes. The ASD screening tool most commonly used by pediatricians is the Modified Checklist for Autism in Toddlers (M-CHAT).
Methods & Findings: The goals for this study were to determine the rate of ASD screening at 18- and 24-month visits, identify characteristics associated with completing the screening, and evaluate how the M-CHAT is administered in real-world settings, including the extent to which the M-CHAT improves accurate identification of ASD at earlier ages. The researchers analyzed electronic health records from clinics in Utah for children who attended 18- and 24- month clinical visits between 2013 and 2016. They also contacted the physicians to determine how they administered and scored the M-CHAT, if they adhered to the follow-up recommendation, and the pattern of referrals for children who screened positive. The researchers concluded that ASD screening occurs at most 18- or 24-month visits and that children who screened positive were more likely to be diagnosed with ASD at a younger age.
Implications: There was a high number of false negative screens, which may be related to children receiving only one screen and/or the lack of follow-up interviews. There were also disparities in screening across race, sex, and socioeconomic status. Importantly, unlike the American Academy of Pediatrics, the American Academy of Family Physicians does not recommend universal ASD screening, as was illustrated by the lower likelihood of family physicians administering the M-CHAT than pediatricians. The results of the study support universal ASD screening but indicate a need for more consistent implementation in real-world settings, quick referral for at-risk children, and expansion of ASD screening among family physicians.
Timing of the Diagnosis of Autism in African American Children.
Constantino JN, Abbacchi AM, Saulnier C, Klaiman C, Mandell DS, Zhang Y, Hawks Z, Bates J, Klin A, Shattuck P, Molholm S, Fitzgerald R, Roux A, Lowe JK, Geschwind DH. Pediatrics. 2020 Sep;146(3). [PMID: 32839243]
African American children on the spectrum experience delays in diagnosis and have a greater chance of being identified with an intellectual disability.
Background: Despite public health efforts to help families identify and act on early signs of ASD, a significant delay persists between the time at which parents express concern about their child's development and the child's age at ASD diagnosis. This study aimed to better understand delays in ASD diagnosis and the disproportionate rate of cooccurring intellectual disability (ID) in African American children with ASD. The researchers also sought to explore family and social factors that may contribute to differences in IQ among African American children on the spectrum.
Methods & Findings: Researchers used a sample of African American children with ASD enrolled in the Autism Genetics Network study and gathered data from event history calendar interviews, conducted cognitive assessments of the children and their close relatives, compared the prevalence of ASD among their study participants to the wider population, and obtained genetic ancestry data. Across all sites, over 35% of families reported significant wait times. Over 41% reported having to see multiple professionals before receiving an ASD diagnosis, and over 31% indicated a lack of available professionals.
Implications: The researchers concluded that there is a substantial delay in ASD diagnosis among African American children, which occurs despite most families having health insurance. They found that cognitive outcome for African American children with ASD and co-occurring ID were not associated with length of pregnancy, family income, or variation of IQ within the family, which are all associated with cognitive outcome in the general population. Thus, the pronounced co-occurrence of ID in African American children with ASD cannot reasonably be accounted for by these factors. Rather, the disparity may be related to delayed diagnosis (as documented in the present study), disproportionate presumption of ID, and/or reduced access to quality intervention services. This disproportionate burden of ID co-occurrence among African American children with ASD represents a pressing public health concern.
Validation of the Developmental Check-In Tool for Low-Literacy Autism Screening.
Harris JF, Coffield CN, Janvier YM, Mandell D, Cidav Z. Pediatrics. 2021 Jan;147(1):e20193659. [PMID: 33303635]
The Developmental Check-In is a new picture-based autism screening tool that can help to identify autism in children of parents with low literacy levels.
Background: Although early identification of ASD is needed to initiate the early intervention that is critical to improved outcomes, children from poor, racial, or ethnic minority groups are often misdiagnosed and/or receive a later diagnosis than other children—a disparity that is further compounded in families with limited English proficiency. The most commonly used ASD screening tools have decreased sensitivity among underserved populations. There is a need for a comprehensive visual-based ASD assessment that has been validated among racial/ethnic minority, low-income, and/or limited English proficiency families.
Methods & Findings: The aim of this study was to validate the Developmental Check-In (DCI) ASD screening tool, which was developed to reduce literacy demands and be easily administered across different settings. The DCI is available in both English and Spanish and consists of 26 pictures grouped by four domains: communication, play, social, and behavior. Researchers recruited children aged 24 to 60 months from Head Start and Early Head Start programs across four low-income communities in New Jersey. Most children were Hispanic (66%) and from families in which English was not the primary language (65%).
Implications: The researchers concluded that the DCI was able to accurately identify ASD among a sample of young children from underserved families who were primarily Hispanic, spoke Spanish as a primary language, were insured through Medicaid or not at all, and had a maternal education of high school or below. Hispanic children are diagnosed with ASD at lower rates than Black and White children; thus the DCI is a promising picture-based screening tool that can be used to help close the gap in age of ASD diagnosis among Hispanic children. Because it is a visually based ASD screener, the DCI may be particularly useful in screening for ASD among low literacy or limited English proficiency groups.
Back to Top