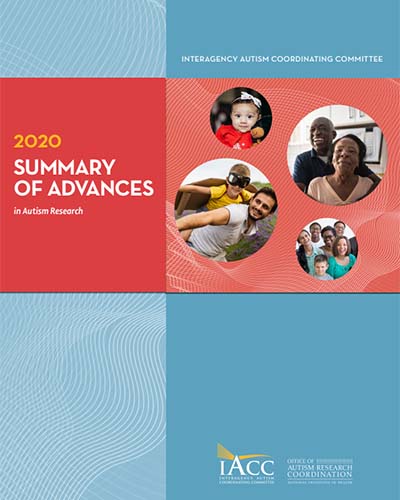 Summary of Advances
In Autism Research
2020
Download PDF

Services and Supports
Racial and ethnic disparities in benefits eligibility and spending among adults on the autism spectrum: A cohort study using the Medicare Medicaid Linked Enrollees Analytic Data Source.
Benevides TW, Carretta HJ, Rust G, Shea L. PLoS One. 2021 May 25;16(5). [PMID: 34032811]
Disparities in dual eligibility for Medicaid and Medicare benefits across race and ethnicity in autistic adults contribute to disparities in access to services.
Background: Racial and ethnic disparities in diagnosis and access to high-quality autism services and interventions are well-documented for children with ASD. However, to better understand adult disparities, this study investigated racial and ethnic differences in eligibility for public health insurance through Medicare and Medicaid. Individuals may obtain Medicaid by meeting income and asset requirements and Medicare by meeting age or disability requirements. Dual eligibility, in which individuals can be enrolled in both programs, provides beneficiaries with multiple coverage options. People can be eligible for both programs if they meet criteria for disability determination and are enrolled in state Medicaid programs.
Methods & Findings: This study used data from the 2012 Medicare-Medicaid Linked Enrollees Analytical Data Source (MMLEADS) to identify 172,071 adults on the autism spectrum who were insured by Medicare, Medicaid, or both. Almost half (49.87%) of White autistic adults were dual-eligible. In contrast, only 37.53% of Black, 34.65% of Asian/ Pacific Island, and 35.94% of Hispanic autistic adults were dual eligible, with most only eligible for state-funded Medicaid. Black beneficiaries were significantly less likely than White beneficiaries to be dual-eligible across all ages. Additionally, in this sample, Black beneficiaries were significantly more likely to have a co-occurring intellectual disability than White beneficiaries. However, the median spending on health care for Black beneficiaries per year was 20% less for dual beneficiaries.
Implications: These results suggest that full-dual beneficiaries were likely to be found eligible based on disability determination criteria rather than income level. Previous studies have found that obtaining a disability determination can depend on privileges such as attorney representation, higher income, or previous employment, which may be criteria that are more limited for members of minority groups. This suggests that the pathway to dual enrollment may not be equal across race/ethnicity since there are barriers to disability determination. The findings also suggest a need for further research on the relationship between co-occurring intellectual disability and costly chronic conditions, race/ethnicity, and health care spending. Overall, this study demonstrates that differences in determination of eligibility and spending on public benefits continues to negatively impact autistic adult beneficiaries of racial and ethnic minority groups. This indicates that policy changes are needed to address these disparities through education, outreach, and reduction of system navigation barriers.
Understanding Racial and Ethnic Disparities in Autism-Related Service Use Among Medicaid-Enrolled Children.
Bilaver LA, Sobotka SA, Mandell DS. Autism Dev Disord. 2020 Nov 21. [PMID: 33219917]
Racial and ethnic disparities persist in Medicaid enrollment and use of services for children with autism
Background: Medicaid is a public health insurance program that is the largest payer of autism-related health care services among children with autism in the United States. Children are eligible for Medicaid based on disability, income, or foster care. Medicaid also pays for school-based services for eligible children in most states. Research has uncovered racial and ethnic disparities in the use of the Medicaid waiver program, which provides home- and community-based services. However, little is known about racial and ethnic disparities in other Medicaid services and school-based programs.
Methods & Findings: This study used 2012 Medicaid Analytic eXtract (MAX) data to identify 117,848 children (aged 3 to 17) on the autism spectrum. The authors found that among Medicaid-enrolled children with ASD, 64% were White, 18% Black, 14% Latinx, 2% Asian, and 2% Native American/Pacific Islander. Most children were enrolled due to disability and through a waiver program. Black children with ASD were less likely to be enrolled through the waiver program than any other race/ethnicity. Black children on the autism spectrum made up the largest percentage enrolled in Medicaid through foster care. Black, Asian, and Native American/Pacific Islander children with ASD received fewer outpatient services than White children with ASD. Black and Asian children received more autism services in school settings than White children. In comparison to White children with ASD, Black children with ASD living in metro areas were less likely to use outpatient services and were more likely to use schoolbased services. The results also indicated significant racial and ethnic disparities in case management and care coordination services for Asian, Latinx, and Black children in comparison to White children.
Implications: The researchers suggest that the effects of structural racism may contribute to disparities in Medicaid service use in multiple ways. The most significant disparities were found in case management/care coordination, which would negatively affect the ability to find necessary treatment of health conditions, leading to delays in services and supports. This shows a critical need to address policies that contribute to these disparities. Policy interventions that target geographical differences in service use could also help efforts to achieve equal access, especially for underserved children living in large metropolitan areas.
Competitive Employment for Transition-Aged Youth with Significant Impact from Autism: A Multi-site Randomized Clinical Trial.
Wehman P, Schall C, McDonough J, Sima A, Brooke A, Ham W, Whittenburg H, Brooke V, Avellone L, Riehle E. J Autism Dev Disord. 2020 Jun;50(6):1882-1897. [PMID: 30825082]
Project SEARCH is a promising intervention program to improve employment outcomes for young adults on the autism spectrum.
Background: Despite recent legislation mandating transition services for people with disabilities, many young adults with ASD remain at high risk for unemployment and underemployment. Few studies have explored interventions to improve employment outcomes for autistic individuals. Recent studies have demonstrated benefits of supported employment as an intervention for other disabilities. Customized employment is an extension of supported employment that aims to match the strengths of each person with the needs of an employer.
Methods & Findings: Project SEARCH is a transition-to-work internship program that uses supported employment and customized employment to prepare youth and young adults with disabilities for employment. The researchers randomized 156 high school students with ASD (aged 18-21) into two groups. One group was enrolled in the Project SEARCH program and also received ASD-specific supports, including social communication training, provision of visual cues, and behavior support and self-regulation strategies. The control group received services and accommodations as specified in their individualized education plans. Both educational staff and job coaches provided support. The researchers found that 32% of the students in the Project SEARCH group graduated high school having secured competitive employment, while only 5% of those in the control group graduated with employment. After one year, over 73% of students the treatment group had acquired competitive employment, compared to 17% of students in the control group. Participants in the Project SEARCH group reported an average of 18.8 weeks from graduation to employment, while those in the control group reported an average of 43.4 weeks. At one year post-graduation, participants from the Project SEARCH group were working an average of more than 20 hours a week at an average of $9.67 per hour.
Implications: The Project SEARCH program provided a seamless transition from school-based to adult communitybased services for students with ASD, resulting in significantly fewer individuals being unemployed in the year following graduation. The researchers identified six key elements of the program that contributed to improved employment outcomes: internship experience, instruction, receiving personalized vocational support, seamless transition to adult services, high expectations for interns, and developing a resume with examples of successful work. The researchers recognized that Project SEARCH requires a significant investment of time, cost, staffing, and collaboration but highlighted that the intervention provides a solid foundation for students to obtain competitive employment and build a career.
Back to Top